Halloween At Cerys' Closet
Hello lovelies,
How beautiful is it this time of the year!
I love the colours and the crisp mornings... but the best thing about October is: my birthday and Halloween!
I want you to celebrate with me.... so keep reading for an awesome treat!
What We Have In Store And Online For Halloween:
Well we can't start our Halloween collection off without our LIMITED EDITION VERAS!!
Say hello to:
'PASTEL SPIDER' LIMITED EDITION VERA BY CERYS' CLOSET.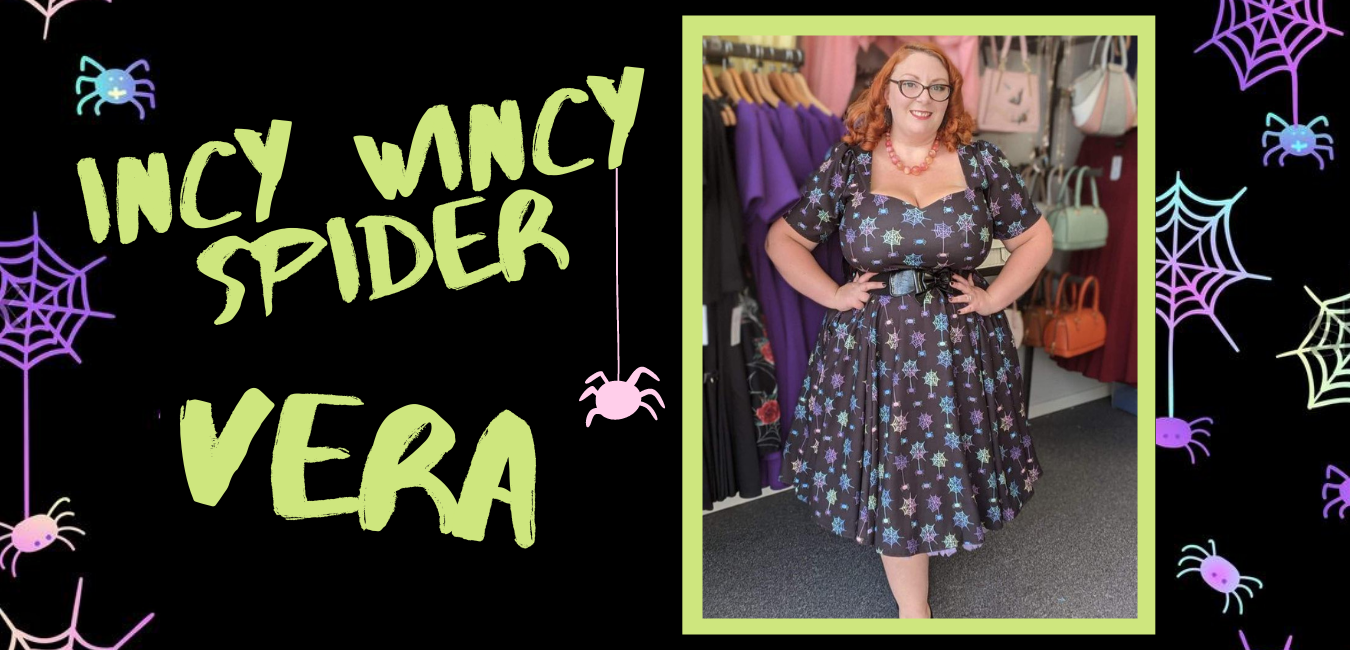 My love of Halloween really shone through in our own Cerys' Closet collection last year, I put 3 Halloween designs into production and each of them was met with love from you guys.
The pastel spider was the first design in the collection that and for that I really have a lot of love for it.
This dress is in my own dress collection, and I have worn it throughout the year, not just in the spooky season. I will often get stopped when I am out and about in it as people will comment on the unusual design.
As you can see from the print example (in the background of the above picture) there are A LOT of pastel colours to play around with... and below is Kirsty a.k.a. Miss.spoonfulofsugar showing off some of the accessory colourways to wear the dress.
Which is your favourite colour combo?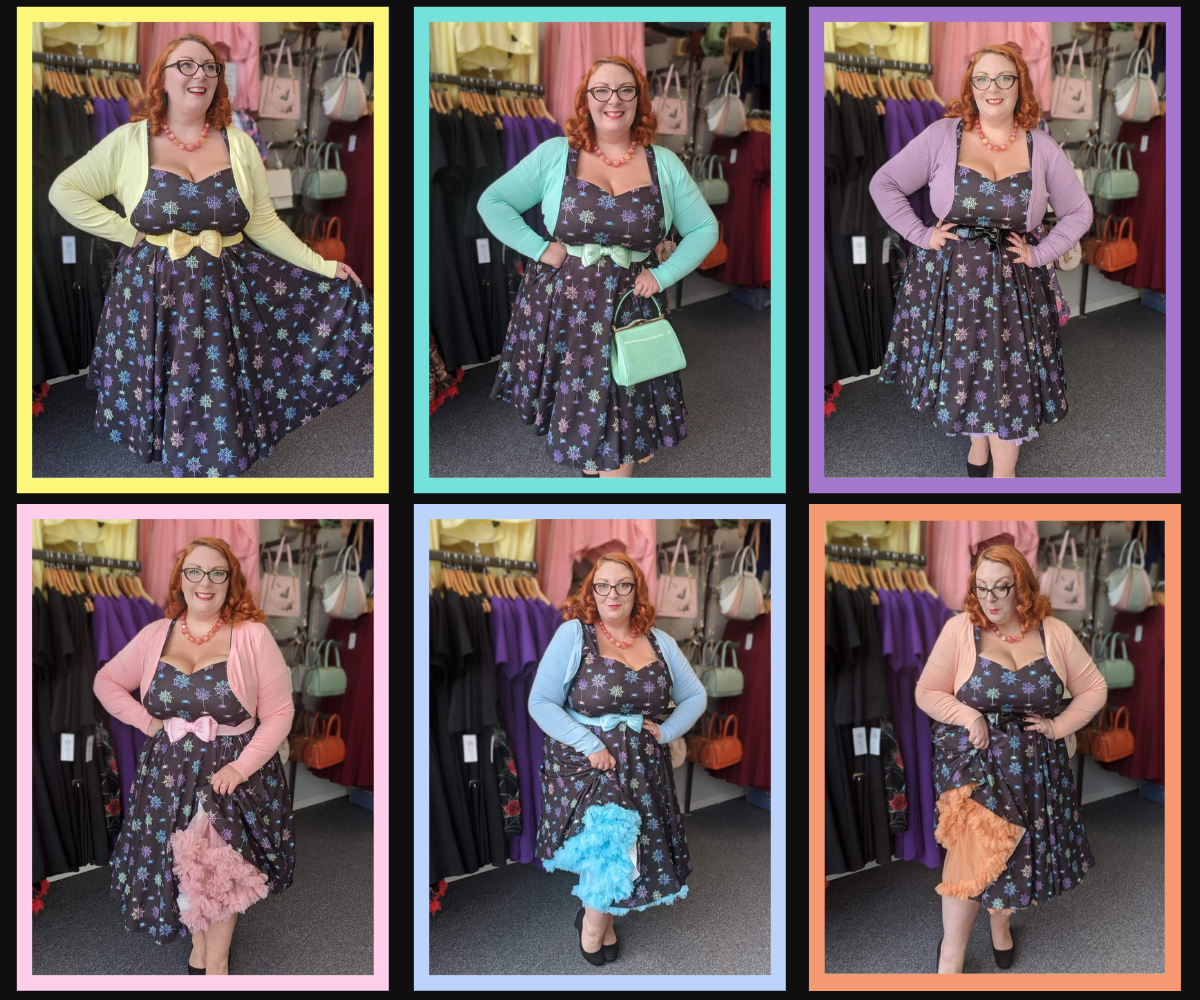 Note: I only have a few of each size left in stock in this design, the 8s and 10s sold out immediately - but as this is a Limited Edition collection, I won't be repeating them.
Second in our collection is the:
'BITE ME' LIMITED EDITION VAMPIRE VERA BY CERYS' CLOSET.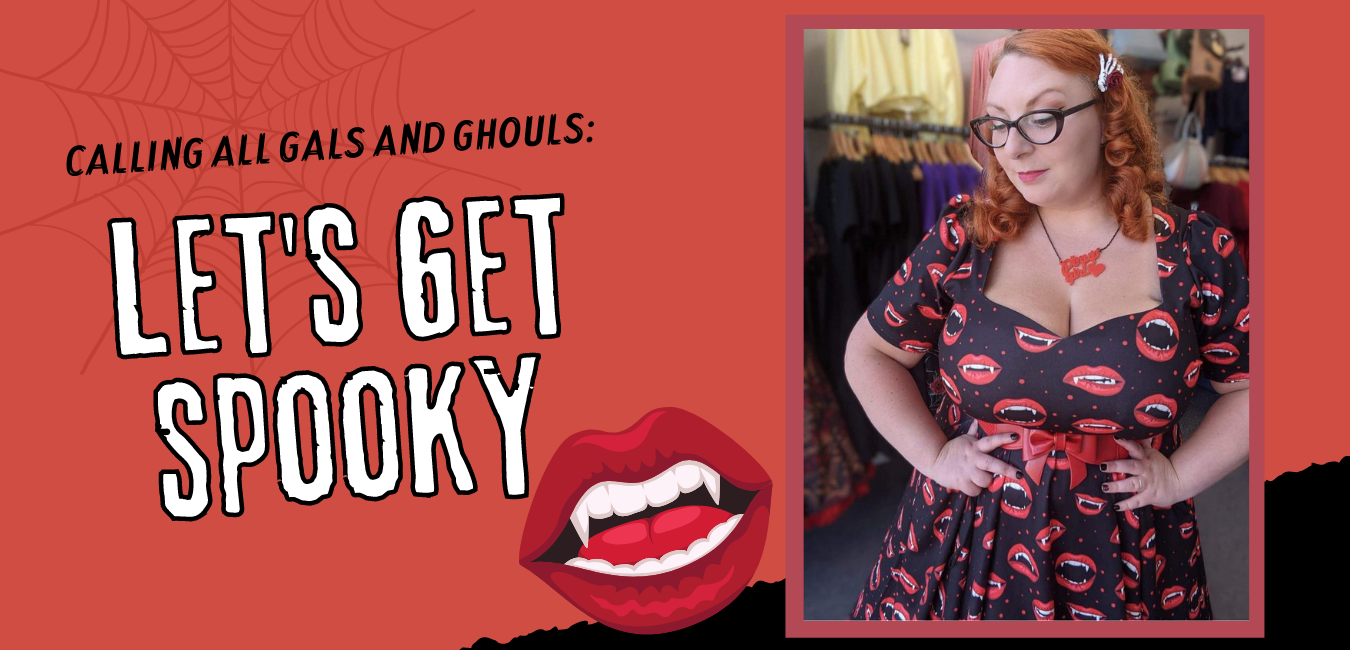 As soon as I saw this print I knew it was perfect for our Halloween Collection - sexy red vampire lips and polka dots... vintage and quirky... YES, YES, YES!
This is another dress that I will often wear all year round as I LOVE LOVE LOVE the print and I think it doesn't limit wear to just the spooky season... but it does fit in really well around this time of the year.
I love to wear this dress accessorised with black, red or white.
NOTE: all size 8s and 10s are sold out and will not be replenished as this is a limited edition product.
The last of the Halloween Vera Collection;
THE SAMANTHA WITCH, VERA DRESS BY CERYS' CLOSET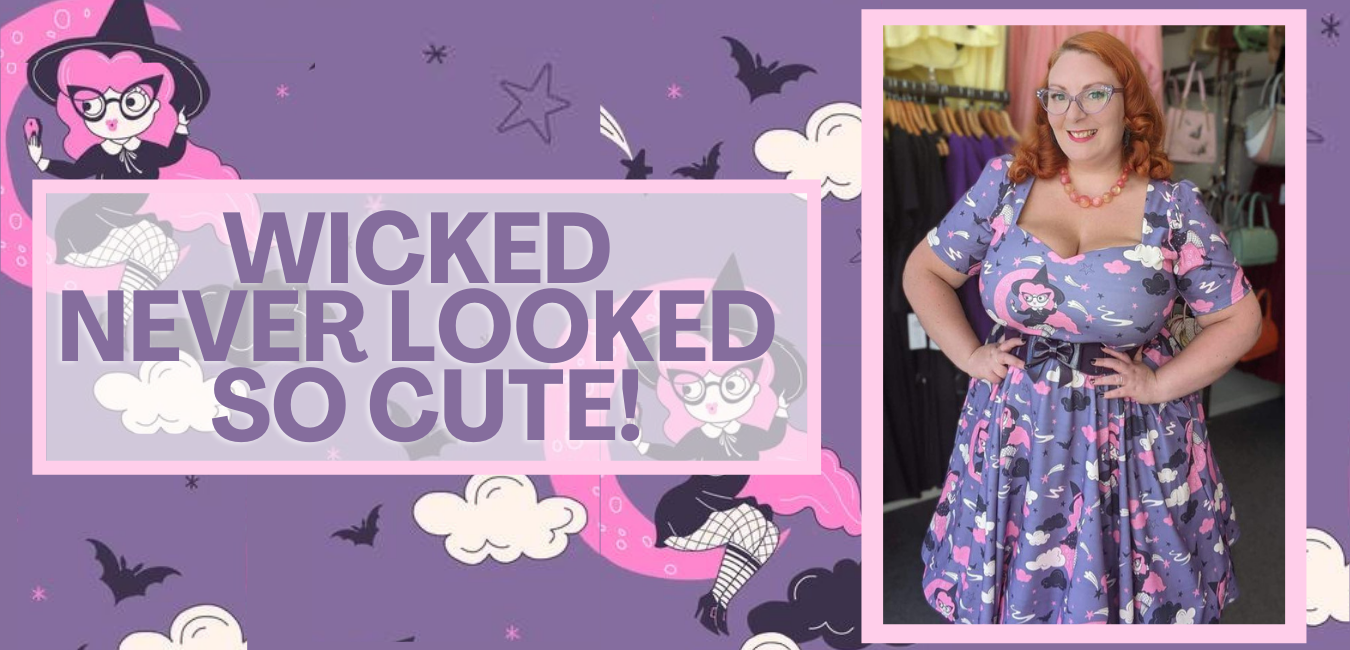 I often get asked if the Samantha Pin up witch was based on our beautiful model Kirsty... the answer is no but omg what an amazing coincidence that they look so similar with their glasses and kick ass cuteness!
This design was a little bit of fun to the Halloween Collection, I didn't want all of our designs to be black background and this pink and purple cuteness is ideal as a Pastel Goth/ Kitsch Witch take on Halloween.
She has been a very popular choice in the shop as the design is cute and colourful.
I wear this dress with pink, hot pink, aubergine, purple and white accessories... but this is not limited... I would love to wear this with green! I think it would be so cute.
More for Halloween: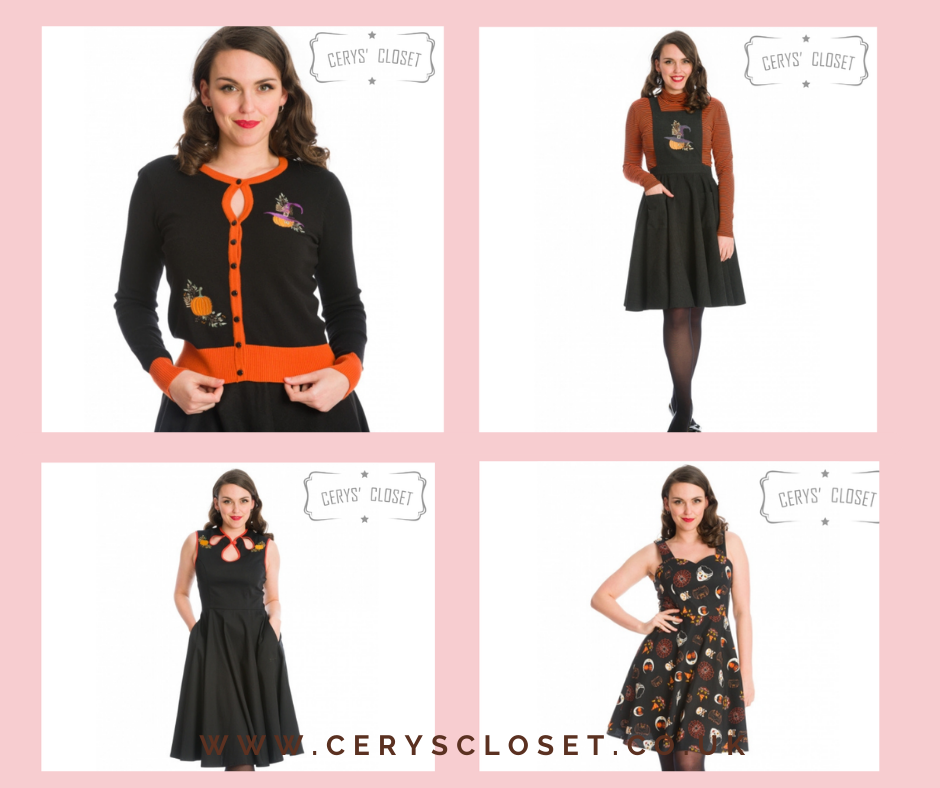 A little treat for you...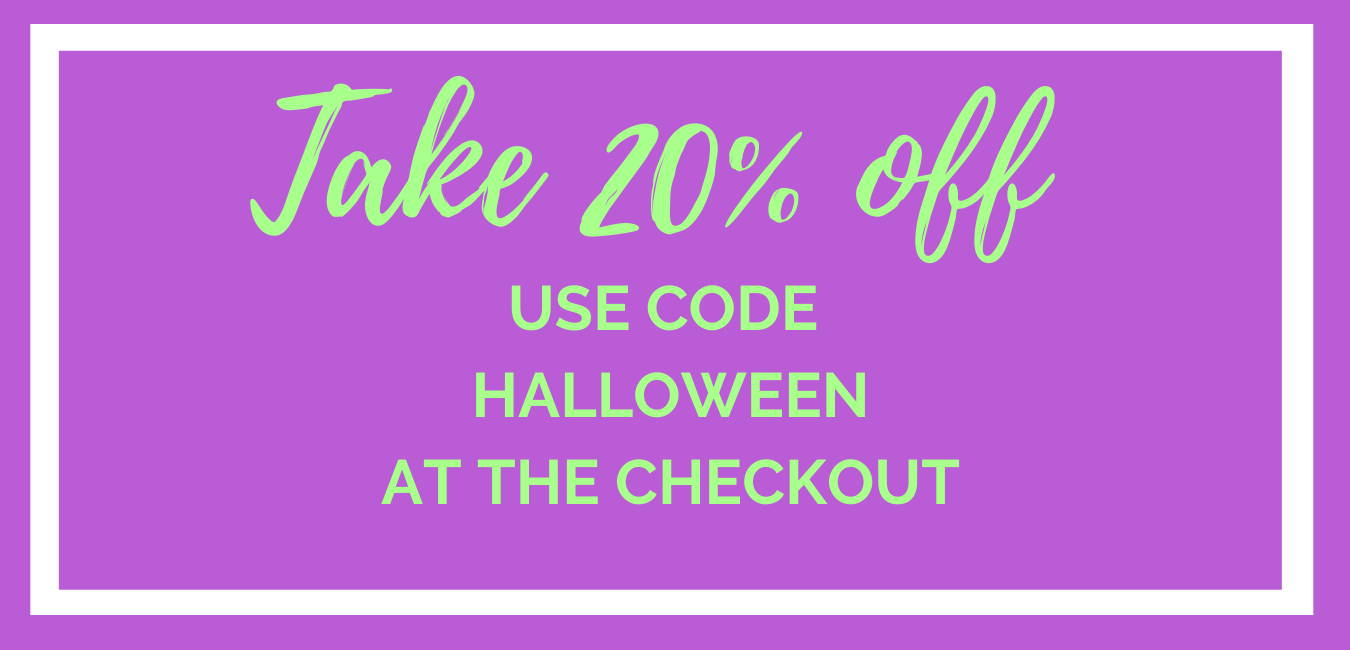 As a little birthday/ Halloween treat... take some money off at the checkout on the above items.
SOME BEHIND THE SCENES INFO AND THANK YOU'S
I often get asked why we use the same models in my photos; So I thought
When I launched both my brand and the Halloween Collection in 2020, it was all a big old mess! 2 years of planning for this brand/ my first dress design... I was planning a big launch, amazing product shoots, photoshoots, marketing ideas.... and BAM.... LOCKDOWNS...... LOCKDOWNS EVERYWHERE!
BUT IT WASN'T OVER... With a few messages, a couple of phone calls, some help from Court Coleman and my good friends/ the most supportive women I've ever met; and we launched.
It's for this reason that you may see a lot of the same women in the photos we use for marketing our dresses e.g. Kirsty (Miss.Spoonfulofsugar) who is in all of our Halloween collection photos.
I messaged this amazing superstar of a woman the night before the firebreak/ lockdown was due to start as the dresses turned up unexpectedly... and she winged her way to me to take these spectacular photos!
I would just like to say a HUGE THANK YOU to Kirsty (Miss.Spoonfulofsugar) for all these amazing photos.
A few more of our models - who aren't in these photos but have been a huge support and are featured in other photos include:
@Laura McFabulous, @DizzyDonna, @LishaSolik @LisaRedLips @BethChicky @MissKillerCurls, @MissAmyMay and all of you who have sent your photos into us. Thank you all for your support.
Have a wonderful weekend lovelies,
DON'T FOGET TO SIGN UP TO OUR NEWSLETTER
Cerys x