Dress Of The Week - The Faux Shirt Dress
Hey lovelies,
I hope you have all had a wonderful weekend and are staying safe.
We have been super busy here at Cerys' Closet "making hay when the sun shines" as they say. Did you know that this dress fanatic is also a DIY fanatic? I have been putting my skills to the test this weekend and rendering the flats above the shop.
Who knew that rendering was a core workout? OMG I am suffering today! But at least I am suffering in the shop surrounded by prettiness instead of cement dust and sand.
I have decided for this week's dress of the week to choose a style rather than an individual dress; and it is the faux shirt dress.
This dress is perfect for easy wearing and comfort but has a really big impact when people see you wearing it.
I have 4 designs to show you, so lets start by introducing you to Beatrice, Midnight, and Hazel; available in sizes 8 - 26. And Ruby who is BRAND NEW (AT THE BOTTOM OF THIS PAGE) available in sizes 8-18
This dress has saved my bacon on more than one occasion. It's a dress that can be worn with minimal effort but makes a big impact, I always get compliments when wearing one.
I have worn these dresses to:
Business meetings: the faux buttons are a blessing as there is no gaping and my boobs don't pop out at inopportune moments as has happened with some shirts.
Birthday celebration, Weddings, Occasions and girls' nights out. Just add high heels, petticoats, victory rolls, hair flowers and a fancy handbag and you're ready!
Working festivals and working in the shop: The fabric has slight stretch so is comfortable when moving and lifting boxes and rails, and the pockets hide SOOOOO much stuff.
And more recently I have worn these dresses during lockdown on low days where I had minimal energy but wanted to feel nice; I just add flats and a denim jacket and I'm good to go.
About the Dress
The bodice is fitted like all our 1950s reproduction dresses, it gives the perfect hourglass silhouette and is very feminine. I would recommend a size up if you have a larger bust, there is a small amount of stretch in the fabric, but not much.
The full circle skirt is beautiful and HAS POCKETS! Which are handy for hiding snacks, phones, dog poo bags or a plastic bottle filled with vodka… for your friends… on a night out… you know who you are!
And the cap sleeves are probably my most favourite thing about the dress. I often feel like I need to wear a cardi or bolero because I am a plus size lady. My arms are something I am a little nervous about displaying to the world. But with these little cap sleeves, that self consciousness falls away. It's silly but that little bit of coverage gives me a whole lot of confidence.
Now don't get me wrong, when it gets a little nippy and I need to wear a cardi, I will be putting one on. But I am glad that this dress offers me a little protection from my own self consciousness.
Outfit Inspirations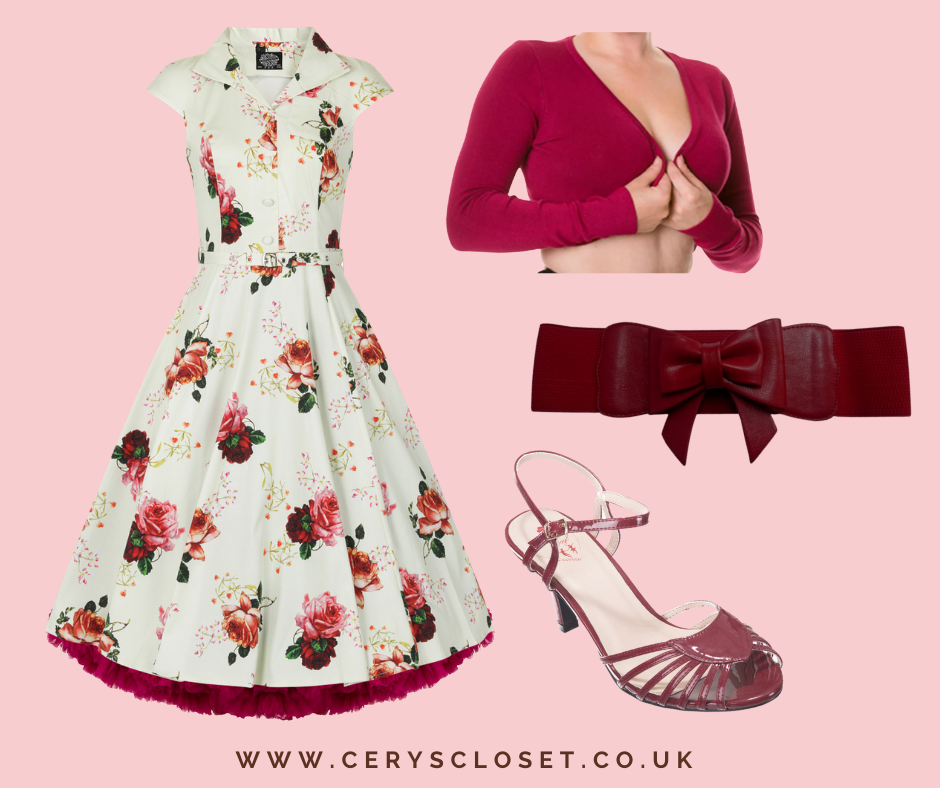 Items pictured:
Hazel Shirt Dress , Burgundy Petticoat , Burgundy Bolero , Burgundy Amelia Sandals , Burgundy Faux Leather Belt
Hazel
Hazel is the buttermilk beauty in our collection of faux shirt dresses. The background colour is a soft buttermilk yellow/ cream and there are collections of roses in burgundy, pink and peach with sprigs of leaves throughout the dress.
This dress comes with a matching fabric belt, I personally change the belts on all my dresses and I can vouch for any of the elasticated belts we stock at Cerys' Closet as I have tried and tested them for years... trust me when I say they have been put through the mill when I wear them.
This dress look amazing with burgundy shown above, but I have other outfit inspirations colours on our social medias throughout this week to show you alternatives to this look. I also highly recommend a classic brown leather belt and brown heeled sandals with this dress for an amazing summer look.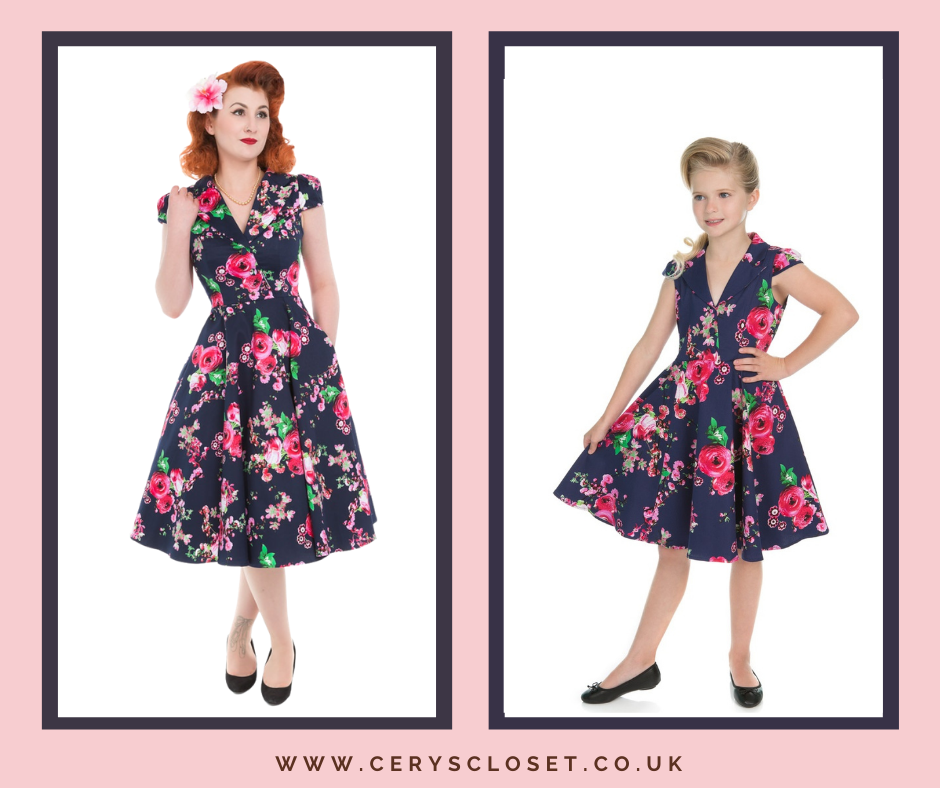 Midnight
This is the second in our beautiful shirt dresses and it has a matching children's dress available in sizes 3 - 12 years.
The deep purple almost navy looking background sets off the vibrant pinks and greens of the flowers.
I have worn this dress with many colours of accessories, but I have to be honest I always end up back at hot pink for special occasions; it really makes this dress pop.
Below is a photo of my sister Bethan on our stall at the Elvis Festival wearing the following
Midnight dress , Hot Pink Satin Bow Belt , Light Pink Hair Orchids , White Petticoat at the time of this photo there was no hot pink petticoat... but it has arrived now!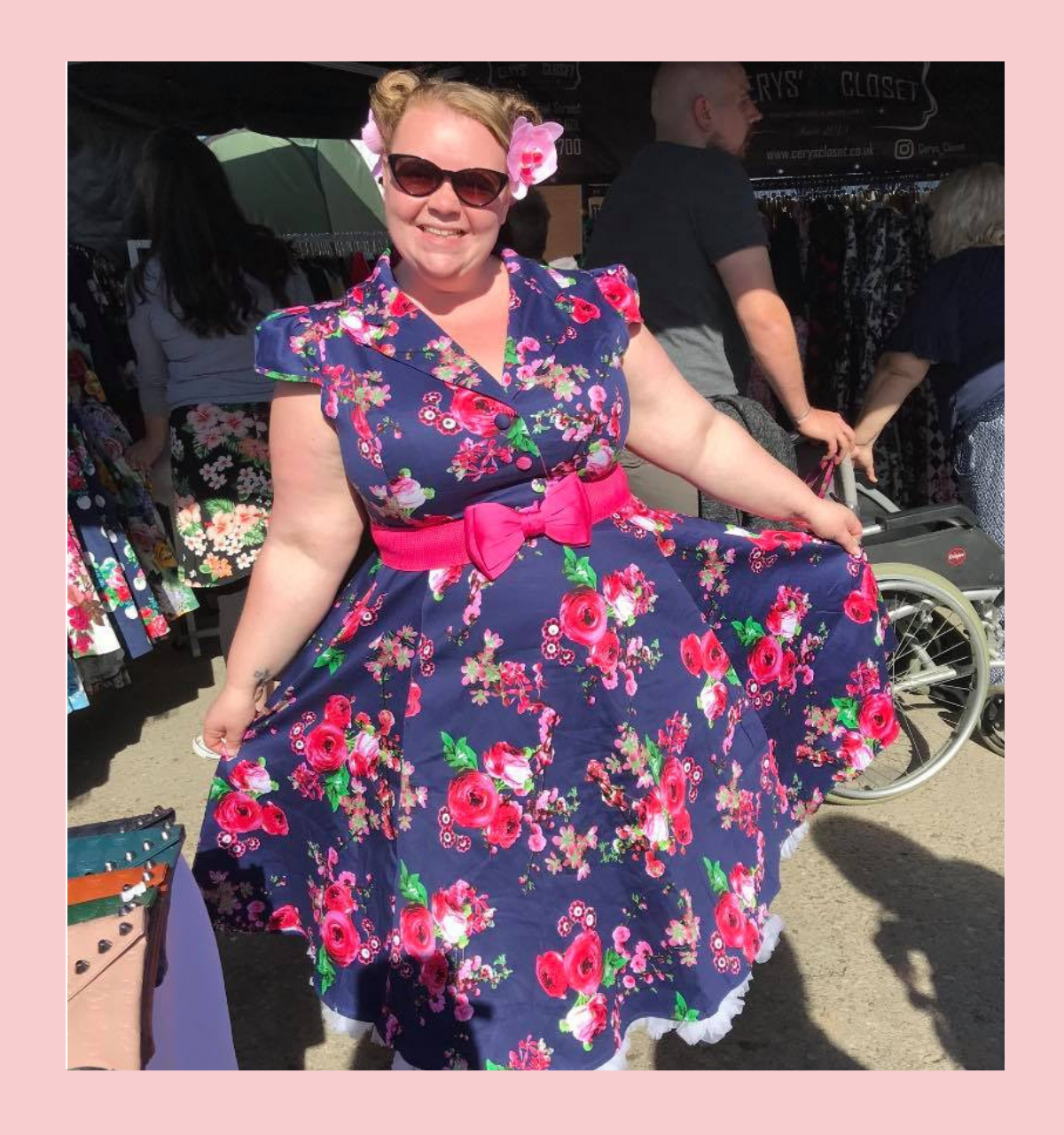 Beatrice
Our last dress for this dress of the week edition is the beautiful Beatrice. A stunning floral dress with pastel colours on a white background.
This is the dress I have worn the most out of the 3 featured, it is an all round occasion dress and when I style it with different accessories it looks like a different dress. I have fooled so many of my friends by wearing the same dress and accessorising it differently, which bring me nicely to the handy tips section of the weekly blog post.
Handy Hints and Tips
I've mentioned throughout this post the advantages of being able to accessorise a dress with different colours, it's a handy tip I use often to recycle a dress when wearing it with the same social group but in different settings.
Going back a while ago, I wore the Beatrice dress to a friends wedding, outfitted in lovely pinks with a big fluffy petticoat and heels.
Later that year I wore the same dress on holiday with the same group of friends but I accessorised it with yellow. I didn't wear the petticoat this time, and I wore cute yellow flats. They didn't even realise it was the same dress until I pointed it out.
I've even fooled my own daughter with this dress; I recently Beatrice with a buttoned up, short sleeve V neck cardigan in a shade of blue - and my daughter thought it was a new skirt... until I pointed out the collar laid over my cardi.
There are ways of making a dress look new, without buying a new dress... I am not one of those people who buys into a "new outfit for every occasion" I like to recycle my looks, and the best way to do this is to change it up with accessories, jackets, boleros, cardis, handbags, shoes... the possibilities are endless when it comes to a dress with so many colours in it.
Below is Beatrice with some accessories from the shop.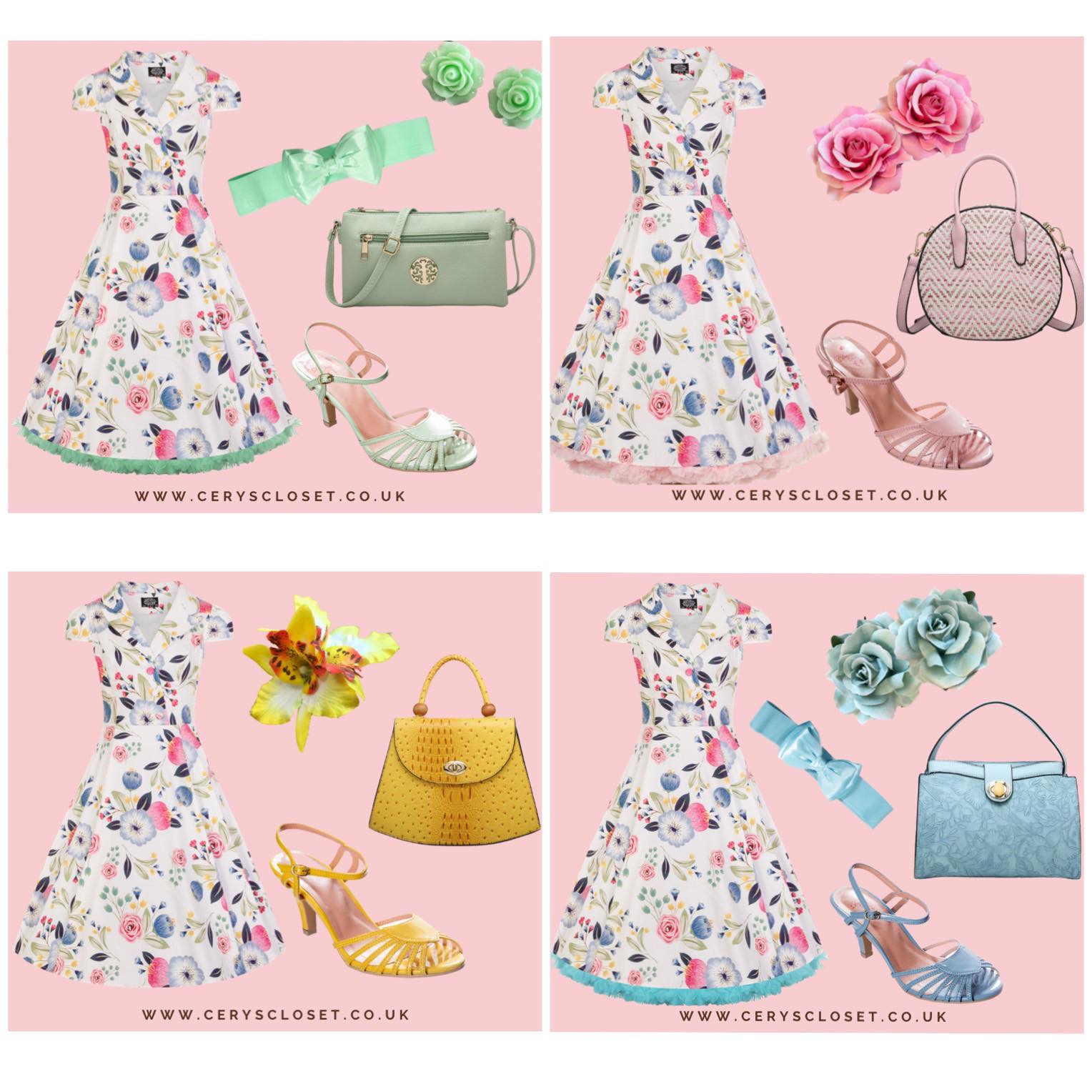 Introducing Ruby Rose
The newest in our faux shirt range is the Ruby Rose, a striking red faux shirt dress covered with gorgeous white blooms. She is a lovely addition to the shop and truly striking in real life. Here is the beautiful Lisha Solik chilling in her garden in style. Doesn't she look amazing!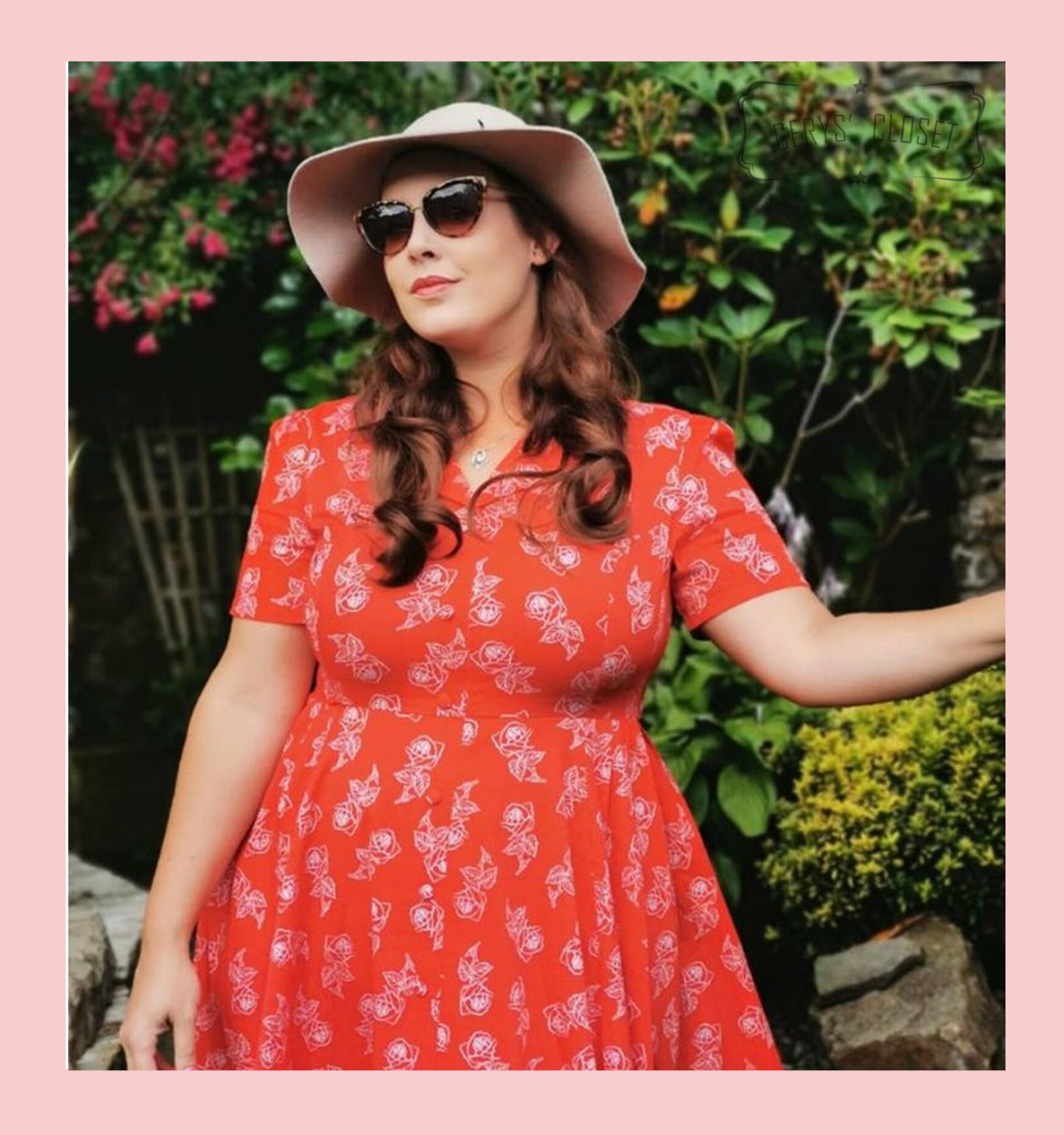 I hope you are enjoying these blog posts, if you have any handy hints and tips you would like to share please don't hesitate to get in touch through our website or socials and we can share them with others.
Stay safe lovelies and have an amazing week,
Cerys xx