Dress of The Week - Sailor Sue
Hello lovelies,
Today's post is starting off with a CONGRATULATIONS to Mama Pussycat AKA Sue, on her first day back as a member of the NHS.
Mum has been a nurse within the NHS for her whole working life, with over 37 years under her belt before she retired 6 years ago.
Deciding that she wasn't 100% ready for full retirement she joined the Cerys' Closet team part time that year and you guys may have seen her in the shop, at events and on our social media causing all sorts of mischief.
Mum has always missed her role within the NHS. And in September 2019 she enrolled on a "back to nursing" course. She studied all through lockdown, passed her course, and on Monday she stepped back into her scrubs, and with her packed lunch (I made her) in hand... we waved her off for her first shift!
I cannot express in words how much this woman amazes me! I am so proud of her!
Here she is, pictured below at the Vintage for Victory Event in Cardiff, manning the stall.
I eagerly awaited her to come home last night to tell me how her first shift was, and thankfully I'm happy to report she said it was like riding a bike and she slotted straight back in.
Don't panic, you will still see her smiling face at events and in the shop as she is continuing with her role here part time too.
As it's Mama Pussycats big week this week, she has personally chosen the dress of the week. It's her favourite in store and named after her... The Sailor Sue dress.
Available in sizes 8 - 26.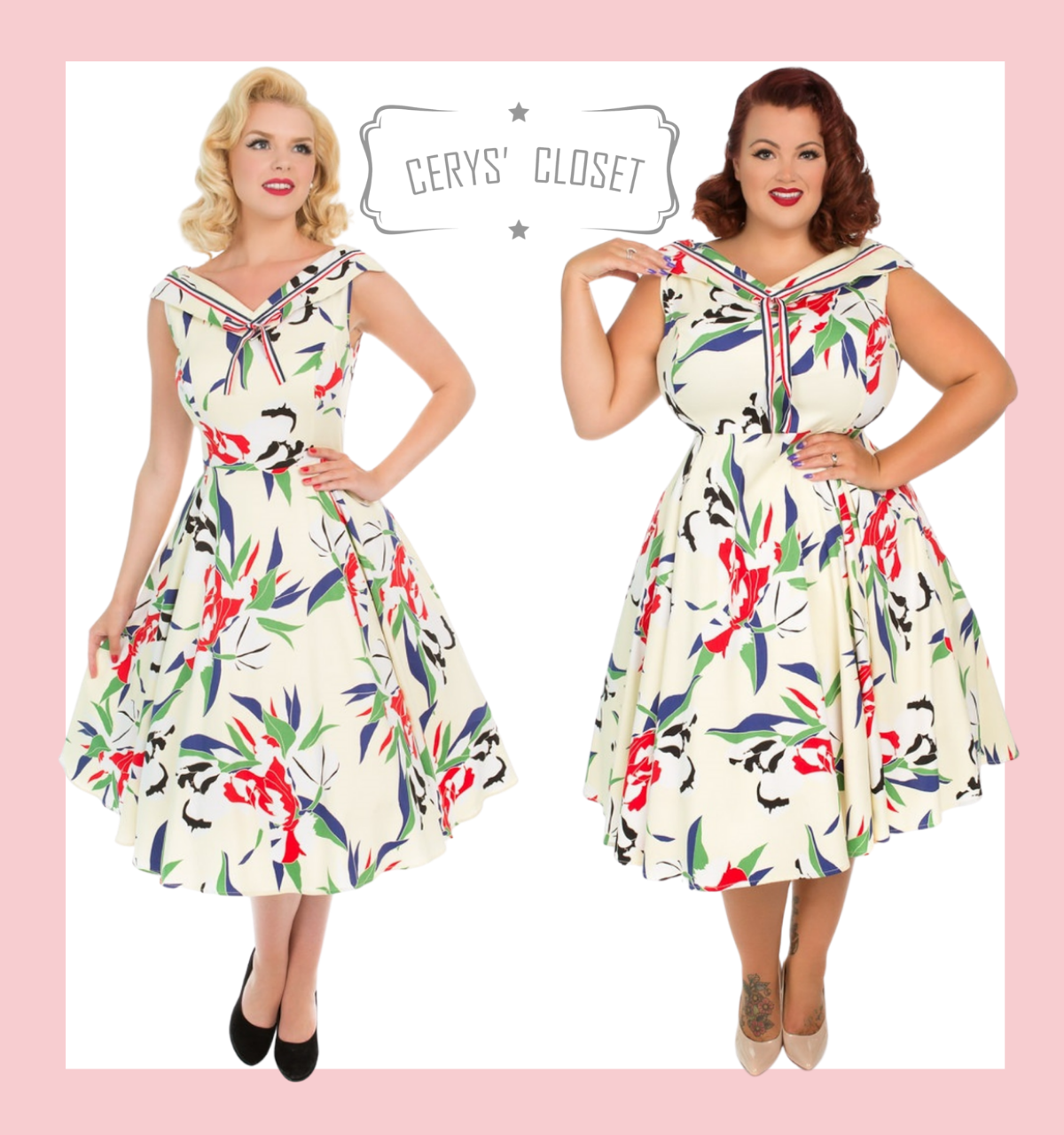 About the Dress
As with all of our vintage inspired dresses, this dress is fitted through the bodice to give the 1950s silhouette, and it flares into the gorgeous full circle skirt that looks spectacular when flared out with one of our gorgeous fluffy petticoats.
I have to be honest, this is one of those dresses that looks so much better in real life as the photographs do not do it justice, no matter how much I try.
It has a gorgeous collar around the neckline with the blue white and red ribbons that you can either leave untied or tie into a cute little bow.
The fabric is covered in leaves and foliage in black, greens, blues, whites and reds on a buttermilk/ cream coloured background.
This dress is a true not to vintage style, from it's colours, to the cut of the dress. It has a nautical vibe that I absolutely love and reminds me of the "make do and mend"/ post war era where the Union Jack colours were prevalent in the UK.
Below is a photo of the stunning Gail Rhys-Jones wearing the Sailor Sue dress at the Vintage for Victory Event in Whitchurch, Cardiff.
Another of my favourite things about this dress is the fact that you can pair it with so many coloured accessories!!
Here is a collection of my favourite colourways with this dress. All of the accessories are available on the website.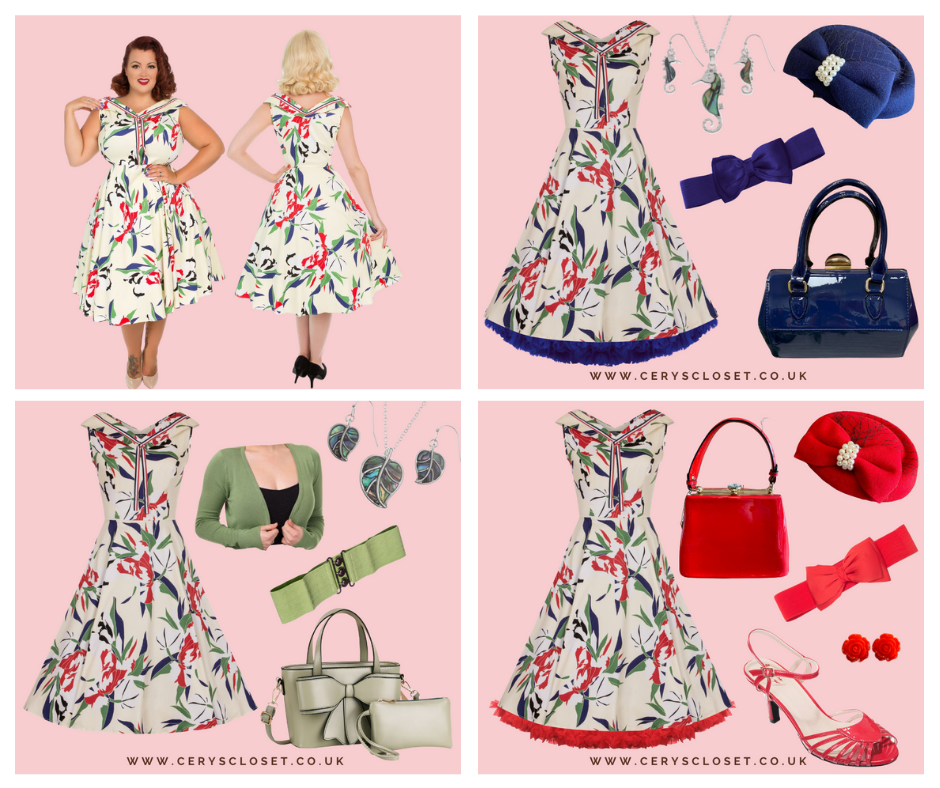 I LOVE LOVE LOVE these cute little hat-inators. They are the most beautiful hair accessories for special occasions, but I have many questions about them here in the shop... and this leads perfectly to my hand hint this week.
How do you keep hair accessories in your hair?
This is a question I often get asked by customers in store when they try our hair flowers, fascinators, bandanas and the gorgeous hat-inators pictured above.
I personally have very fine hair... and not much of it to be honest, so I have a few handy hints and tricks that help me when I wear hair accessories and I've shown ladies in store and they also use them now... so today I shall teach you.
Today's handy trick focuses on the use of bobby pins when wearing hair accessories.
If the hair accessory is moving/ falling out when you put it in your hair, it's probably because your hair is super glossy and gorgeous which is great for condition... because who doesn't love great hair... but not so great for getting the accessories to grip.
Some ladies will use back combing and hairspray to solve this, but if you style your hair often/ everyday it can cause a lot of damage, and as I don't have that many hairs... I prefer not to backcomb if I can help it, instead I use the crossed bobby pin method.
1. Style your hair as you would like it for the day.
2. Decide where the hair accessory is going to be added.
3. Add the bobby pins to your hair, where you would like the hair accessory to sit, make sure that they cross in the centre.
4. Add the hair accessory, ensuring the crocodile clip (attached to the hair accessory) grips the hair in front of the pins and the pins.
5. Make sure it's all secure, reposition if necessary.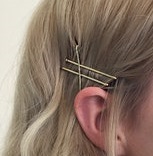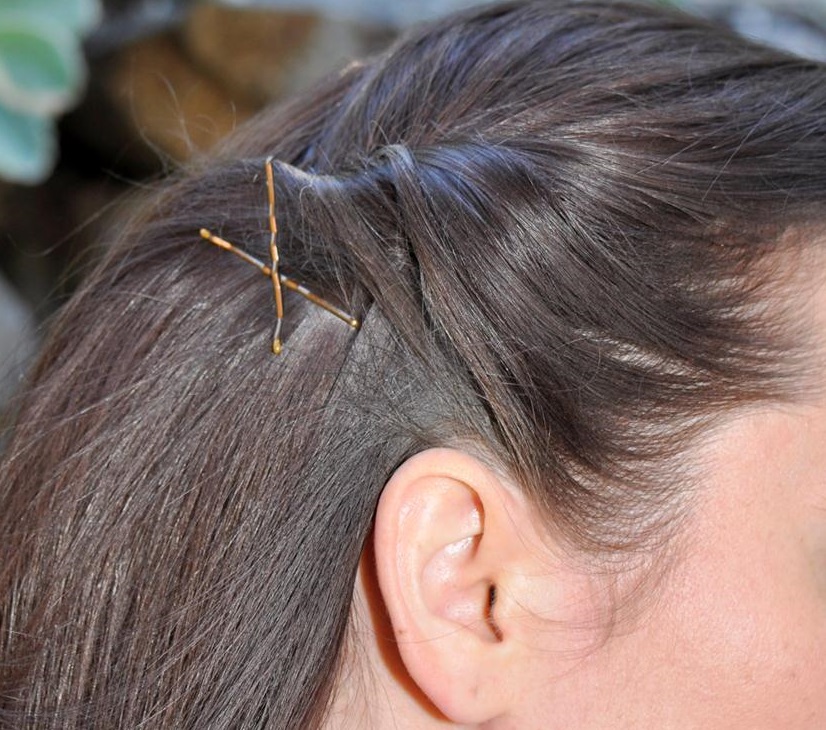 I shall try and get a video tutorial of this on the website ASAP, but in the meantime if you give it a go, please share with us on our socials.
What's new this week?
If you have been watching our socials or are in our VIP group on facebook, you may have already seen a couple of new items going live. If you've missed them, don't despair, lets catch you up!
We have had a new collection of handbags in store, they are now online and aren't they AMAZING!
These cute everyday bow totes come with a FREE WRIST PURSE, which is ideal if you're heading to the bar for a cheeky lemonade and don't want to take the whole bag with you.
They colour match the bags perfectly.
I would personally use this as a feminine hygiene product case... cos it's the perfect size to go inside the bag and it's super discreet! No embarrassing moments when you're at the checkout and routing around for your purse... like that one time in Tesco's... GAH!
My daughter, Emily, loves this bag and was quick to point this out as she is only 15 "and would die" if it happened to her LOL!
However the other secret weapon on this handbag is the central zip pocket that divides the inner lining of the bag... cos you could easily hide those feminine products/ make up etc.
I have made a video of this bag to show the features.
Check it out.... https://youtu.be/zrabP5sV8Ok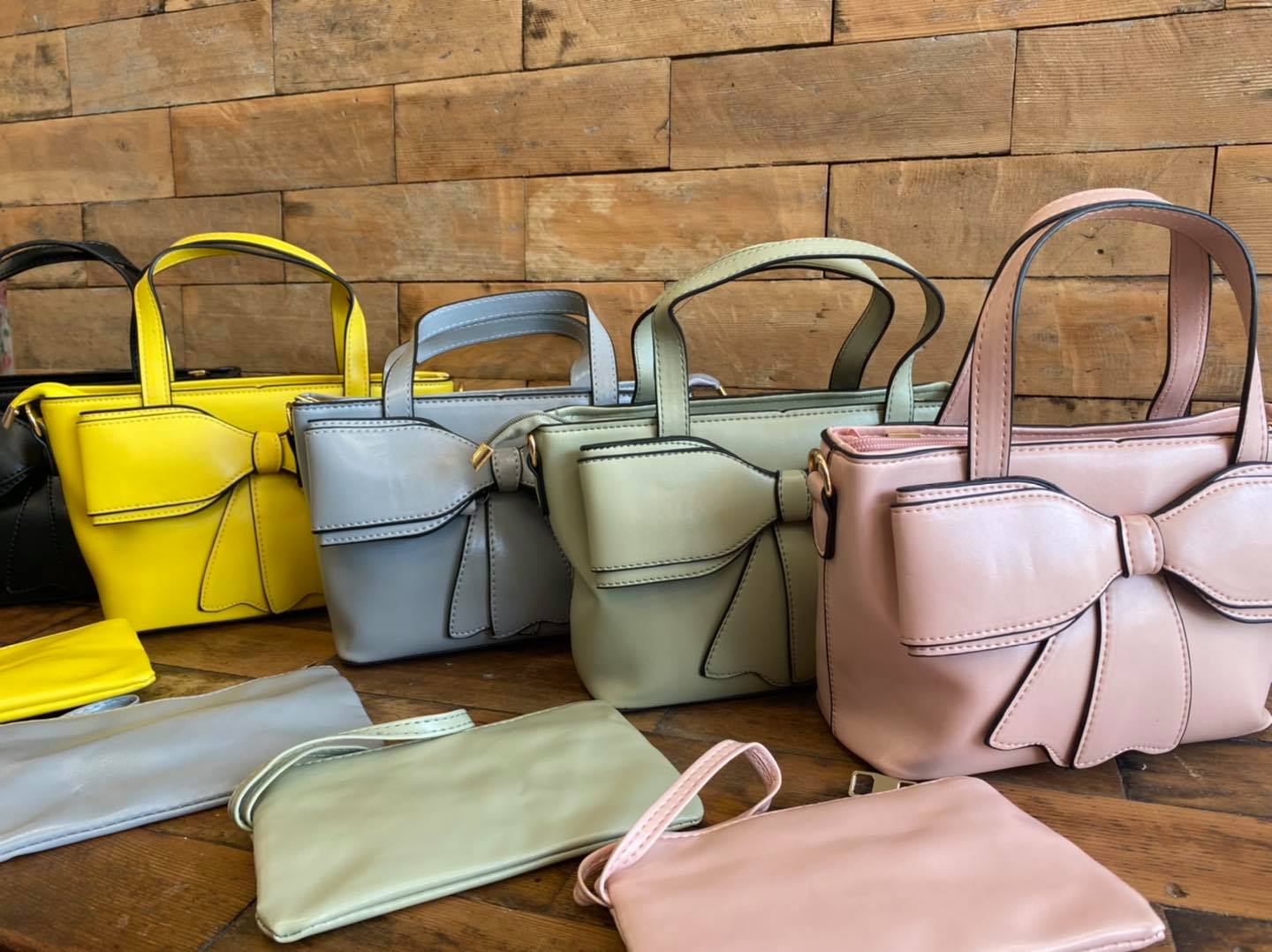 Are you NHS or Forces?
Do you know we offer NHS/ Blue Light and Forces discount in store and online!
We appreciate those that work for our country and we are happy to offer you a discount for your service!
If you're ordering online, just send us a quick photo of your work badge/ blue light card/ forces card and we can send you a 10% off code. If you're in store just bring your card/ ID with you and present it at the till

Stay safe dolls,
Cerys x