Dress of The Week - Rosie
Hey Lovelies,
Happy Monday! Boy did that weekend pass in the blink of an eye, I feel like I need a do over.
What did you get up to this weekend? Night out? Day out? Food Out?
I managed to sneak away from the shop for a couple of hours on Saturday and enjoy some chips at Porthcawl beach with the lovely Kirsty. Is there anything better than eating chips at the seaside?
Although I did fear for my jumbo sausage at one point when a seagull came to eye it up... safe to say he made the right decision and backed away. I could envision the headlines of local newspapers as it approached me "Local Woman in Spectacular Dress, Fights Seagull For Sausage" or "Woman Sacrifices Friend To Seagull" ... thankfully it came to nothing and I didn't have to sacrifice Kirsty to the seagull to save my sausage lol.
For the dress of the week this week I have chosen a Classic dress from the Core Collection here at Cerys' Closet:
The Rosie Dress; available in sizes 8 - 26 and children's sizes 3 - 12 years.
This beautiful dress was introduced to Cerys' Closet approx 5 years ago, but it has been in my personal collection for much longer than that.... there is an interesting story behind the "Shop collection and my Personal Collection status" this process that I thought I would share with you today as it's one that is often asked about, and it also answers the "How did you choose the name for your shop" question I was sent this week.
When I bring a new dress into Cerys' Closet, especially if it's a new brand, it's likely that I will have owned a sample of the dress for a number of weeks before you see the collection added to the website and shop.
I do this for a few reasons, but the main ones are; quality control, fit advice and wash and wear tests.
There is nothing worse than spending your hard earned cash on an outfit/ dress and after 2 or 3 wears the dress shape alters due to washing, the colours fade, the dress falls apart. Trust me, I've been wearing vintage reproduction for many years and I have come across my fair share of "single wear" dresses that have been a waste of money, and they aren't cheap!
So before I bring you an item, I make sure they stand up to my tests. And Rosie was the dress I chose to test before I brought a whole new collection into Cerys' Closet. It's safe to say she passed with flying colours.
This testing process is actually how the name of the shop came about.
Did you know Cerys' Closet actually started life on Facebook, from the back bedroom of my parents house. At that time, I ONLY stocked another brand called Lindybop.
When I started out, Lindybop had only 3 dresses on the market and were growing rapidly. To be honest, in their early days, some of their designs were awful. Thankfully, as they grew, they had a few amazing designs amongst the stinkers... but the only way I would spend my very limited "business funds" on committing to hundreds of pounds worth of stock... was to sample the dress.
This meant that every dress that I stocked, I also owned in my personal collection...
When I decided to commit to the business 100% I needed a name; which lead to a family member saying "Why not Cerys' Closet... because it's like looking in your wardrobe". And BOOM, history was made.
I know that's a little long winded for a blog post, but I want you to know that we care about what you wear, and we make sure that the quality is there.
Rosie was the start of a new direction for Cerys' Closet, with the introduction of a whole new line of Core Collection dresses. She is a cherished piece in our collection, and I have proudly worn her to weddings, events and nights out and even after all this time she still looks as good as the day I bought it.
It is a truly striking dress in real life, and even after all this time, is still a bestseller with our customers.
About the Dress
The bodice is fitted like all our 1950s reproduction dresses, it gives the perfect hourglass silhouette and is very feminine. I would recommend a size up if you have a larger bust, there is a small amount of stretch in the fabric, but not much.
The full circle skirt is finished with a tulle edge, this is not everyone's cup of tea but I love it! You can still wear a petticoat under it, it doesn't affect the dress at all, just adds a little extra to the outfit.
My sister also has this dress and didn't want to wear it with a petticoat. she really didn't like the feel of the tulle against her legs and worried that it would irritate her while she was wearing it at an all day wedding....
DO NOT DISPAIR LADIES I HAVE A SOLUTION!
Which leads me nicely to my weekly handy hint... If you don't like something on a dress, there is always a way to change it without it costing.
In this case, I unpicked the tulle edge for my sister! I sat watching TV of an evening with my handy cotton picker and just undid the stitching that holds the tulle to the lining of the dress. The tulle is not part of the outer dress, it has a lining inside, so there are no visible rough edges when it is unpicked. I didn't need to re-hem the lining once the tulle was removed as I was careful not to unpick that hem. The whole process took approx 20 mins in total.
So my hint is... If there is only a slight element of a dress that is putting you off... change it!
Don't be frightened of giving it a go, especially if the dress has hung in your wardrobe for a LONG time and you haven't worn it.
I had one lovely lady buy the Rosie dress when it first came into store, she had bought it for a wedding but didn't end up wearing it and it had hung in her wardrobe for over a year. When she came in for another dress, I asked about the wedding and found out she hadn't worn it … it was because she didn't like the bow in the centre of the dress.
I was a little disheartened as I want you all to love the dresses you get from us, but I get it... sometimes you have an idea for an outfit and on the day, it just doesn't feel right.
I suggested unpicking the bow and removing it from the dress, I have done this to my own version of Rosie so I can wear our elasticated belts with it. As I lived above the shop at the time, I ran up and got my own dress and showed her the process.
OK, so I talked her out of buying a new dress in the shop that day (I'm not a very good sales person), but I was thrilled when she contacted me to say that she had removed the bow and wore the dress to the wedding with the accessories she had bought.
Thankfully this customer has returned to me year after year for special occasions and it's amazing to know that a simple solution helped and I gained a friend from the process too.
I often customise my clothing, I have sewing skills, but I am no professional; but small adjustments are always worth a try if you're not happy with the item ... GIVE IT A GO* or find a seamstress who can help you with alterations.
(*obviously not if you're planning on returning it)
Outfit Inspiration
In the picture above you can see that I have paired my lovely Rosie dress with the classic Burgundy accessories. I have on the;
and a Hot Pink Hair Rose
I am not wearing a petticoat in this picture and have since removed the bow so I can wear our beautiful elasticated bow belts.
In the photo below, Laura is wearing her Rosie dress with our
and her own nude shoes and accessories.
I always say that the accessories can really change the look of the outfit, and the Rosie is another dress that I play about with colours.
I have worn this dress with purples, pinks, black, white, burgundy and I have even picked out the green. But the options are truly limitless when it comes to a floral as the colours are your inspiration.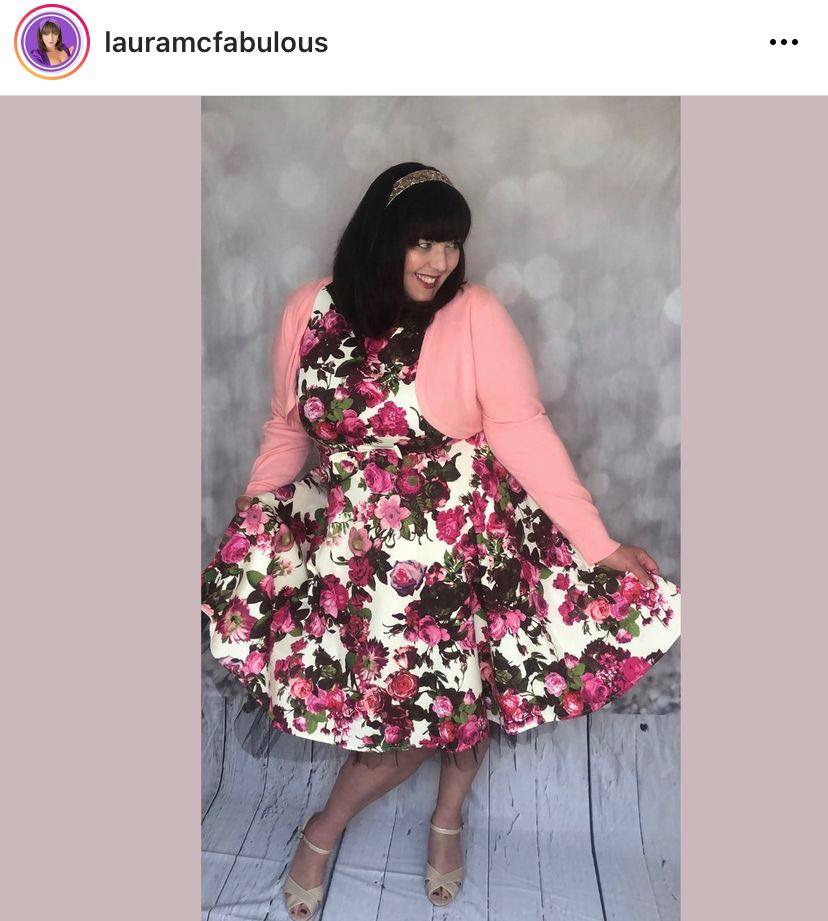 What's new in the shop?

We have had some wonderful new stock in over the last few days, if you're signed up to our newsletter you may have already had a sneak peek, if you're not signed up to the newsletter... girl, get that sorted! (see bottom of this page)
We have had some stunning new handbags in stock this week, with the favourite being the Tassel Shoulder Bag. At only £12.99 this one has flown out over the weekend.
Available in 5 coloursl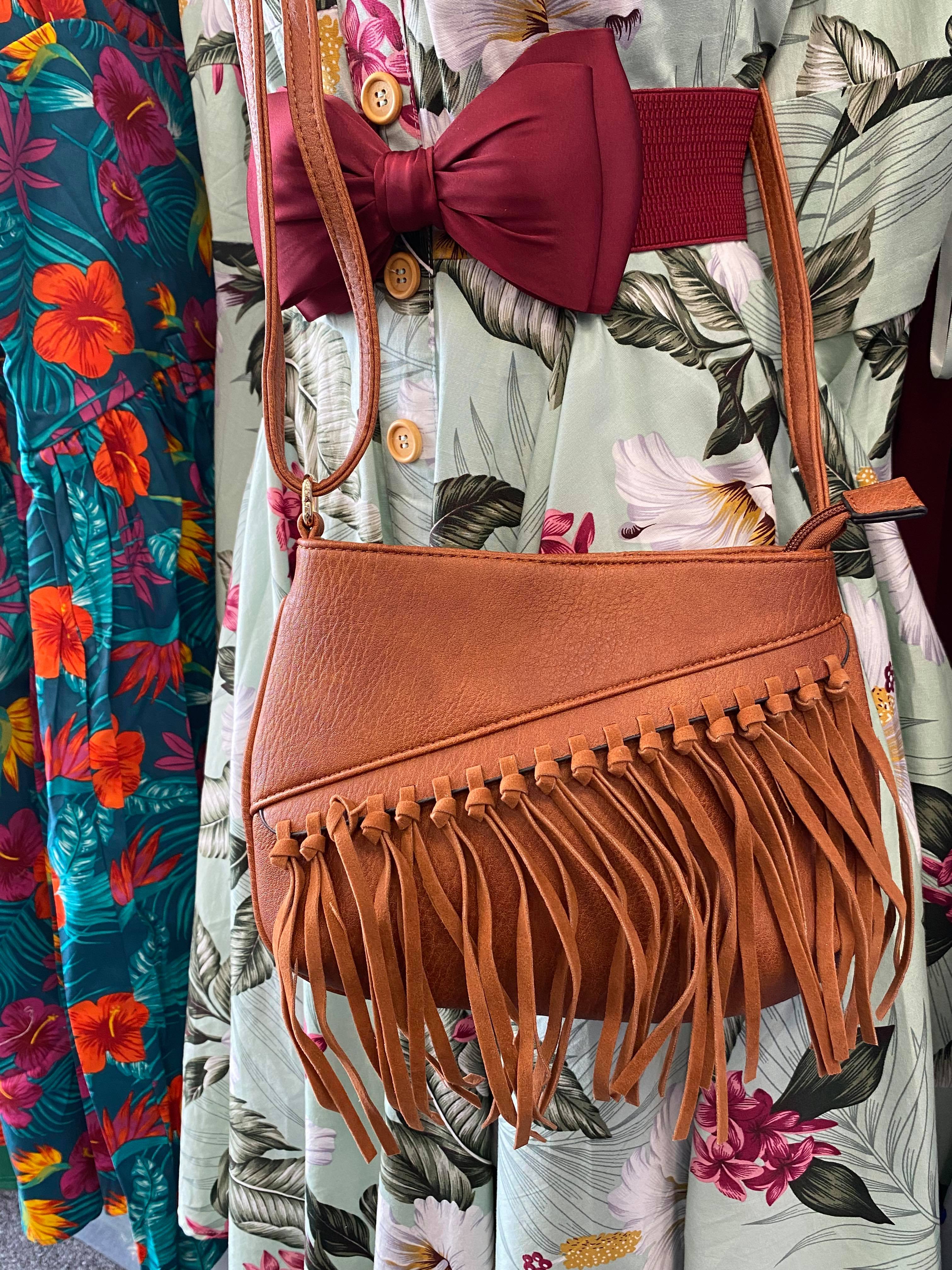 The new addition to our patent handbag collection has also been flying out in store, with comments on the shape and the size of the bag being plentiful!
We also had 2 new dresses arrive, and they are perfect for Summer!
The Jemima dress (Below) is the style that I wore to the beach this weekend and I highly recommend for everyday and special occasion wear. The fit is true to size and super comfy!
Our home ware range has also expanded! Check out all the new goodies here
Thank you for tuning in to another of my dress of the week blogs, I hope you're enjoying them.
Don't forget to keep up to date with outfit inspos, daily goings on and new stock on our socials!
Stay safe lovelies,
Cerys xx