Dress of The Week - Hell Bunny Noa Noa
Hello lovelies,

Welcome to this week's Dress of the Week blogpost!
My sincerest apologies for not posting a dress of the week last week, but I had a super busy few days with the little ones off school.
What's going on at Cerys' Closet
As you all know, we are a family run business... and with the children off school, it's all hands-on deck for childcare. So last week I took a few days out to entertain the kids, and what adventures we have had.
Wild camping, wild cooking, midnight swimming and stalking Bioluminescent plankton on Aberavon Beach until 2am.
As you can imagine, it left very little time for me to sit down and write a blog post, especially when my 7 year old nephew had so many questions about dinosaurs that need answering (apologies to the ladies who visited the shop and had to listen to the dinosaur chatter while trying on dresses).
I hope you are all enjoying the Summer holidays with your little ones.
Here's a little snapshot of our cheap and cheerful family fun time here in beautiful Wales.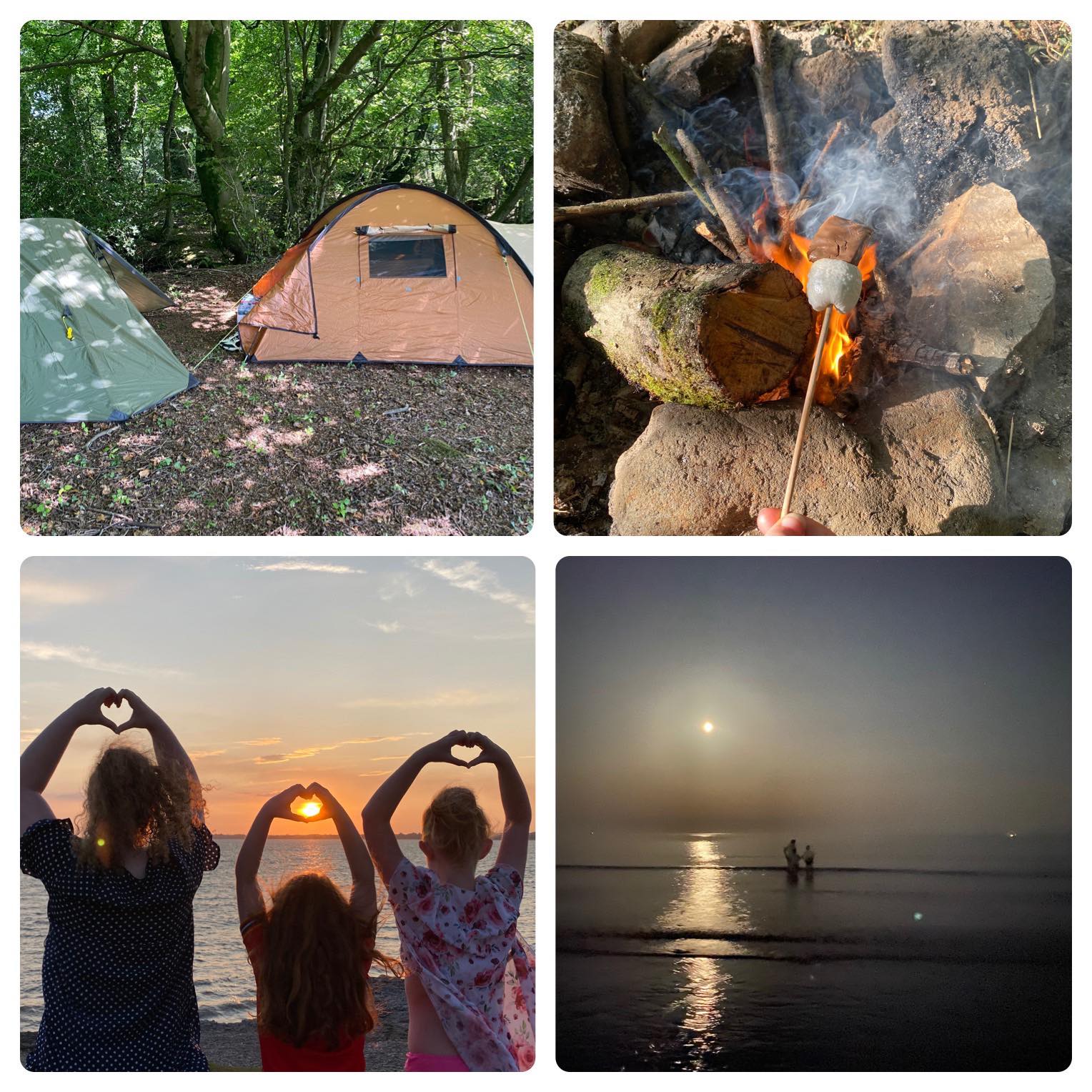 If any of you are in Wales over the Summer Holidays be sure to check out the Bio Lumis, it is the most breath takingly beautiful thing you will see in your life.
Unfortunately, it doesn't photograph well if you don't have the right camera. So, I have used a beautiful image by Lee McGrath to show you what it is.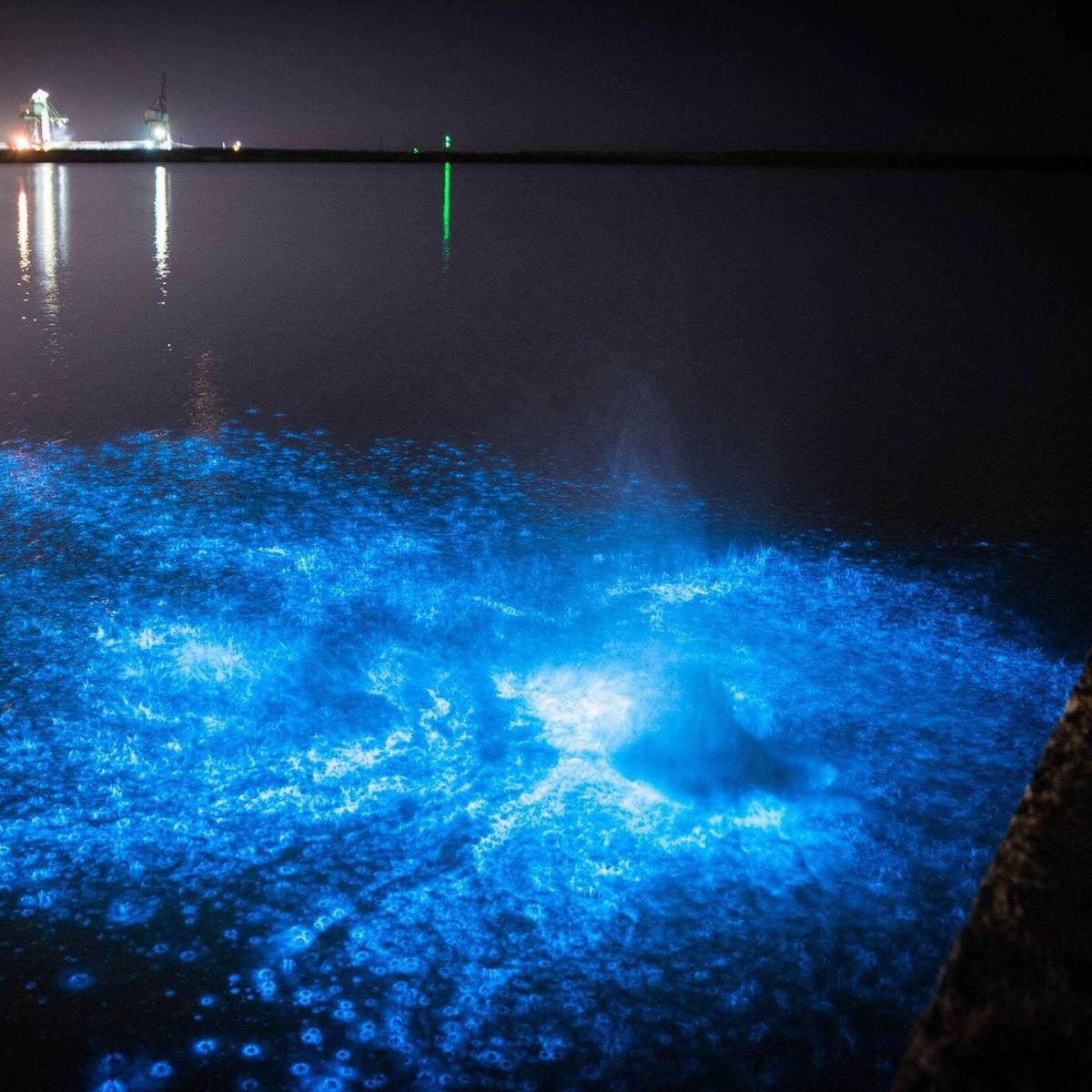 (Image: Lee McGrath)
Anyway, back to what you have all tuned in for... our dress of the week blogpost.
About the Dress
This week's dress of the week is the Hell Bunny Noa Noa Midi Dress, and what a beautiful dress she is!
Now let's start off by talking about that fabric!
WOW!!!
A nod to tropical paradise, this dress is decorated in palm tree covered islands, surrounded by blue waters (that now remind me of Bio Lumis).
There are parrots with plumages of hot pink and vibrant blue, hibiscus flowers in shades of pink and blue, palm fronds and fabulous Tiki heads.
The black background truly makes the colours pop, and ensures that this dress could be worn outside of Summertime as it crosses over neatly into the rockabilly style.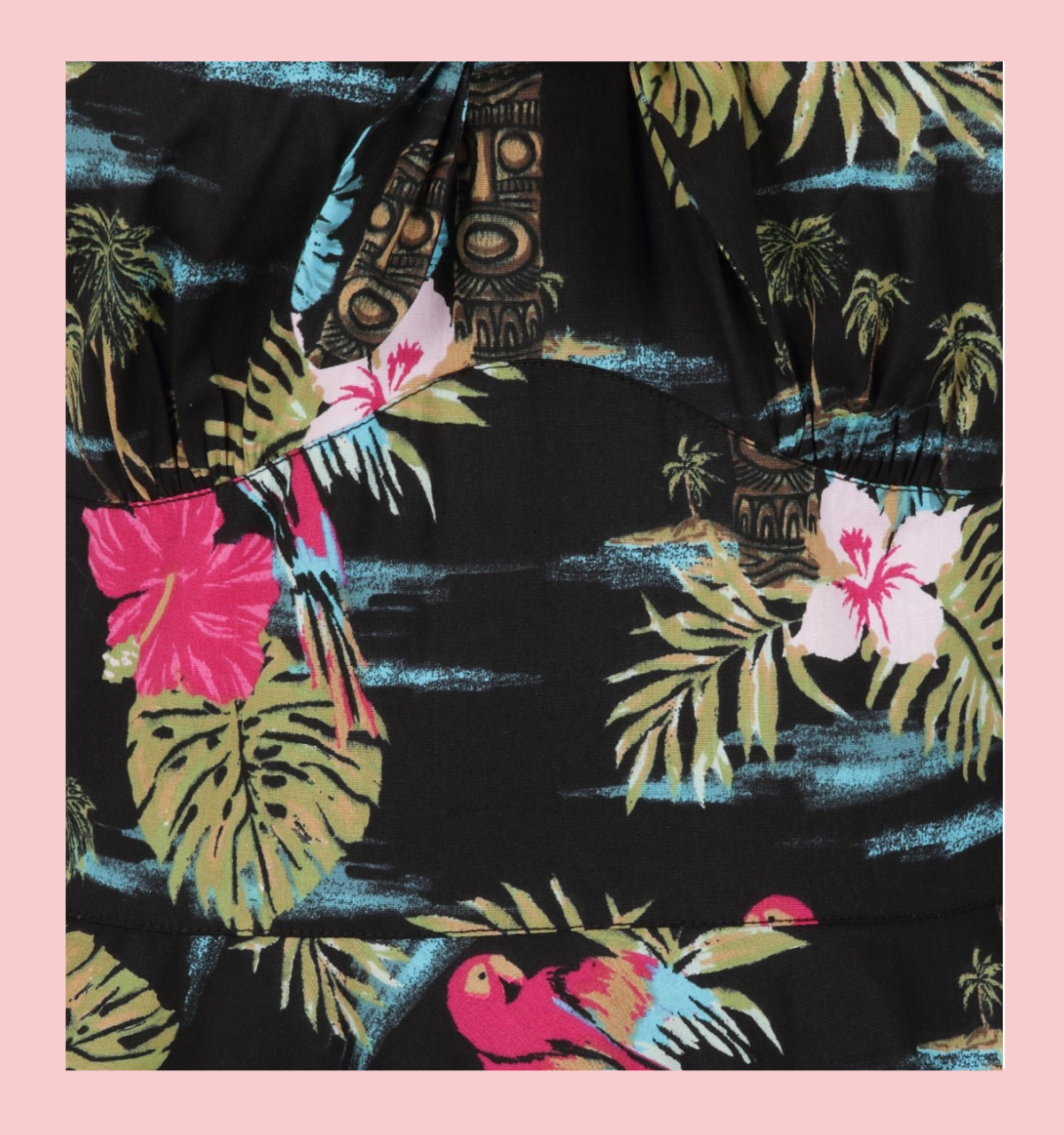 As with all our vintage inspired dresses, this dress is fitted through the bodice to give the 1950s silhouette, and it flares into the gorgeous full circle skirt that looks spectacular when flared out with one of our gorgeous fluffy petticoats.
** Note that the skirt on this dress is a little shorted than our normal full circle dresses as it is a midi style.
Below is a photo of the lovely @LishaSolik wearing the Noa Noa and showing off the amazing pockets!
I LOVE A DRESS WITH POCKETS!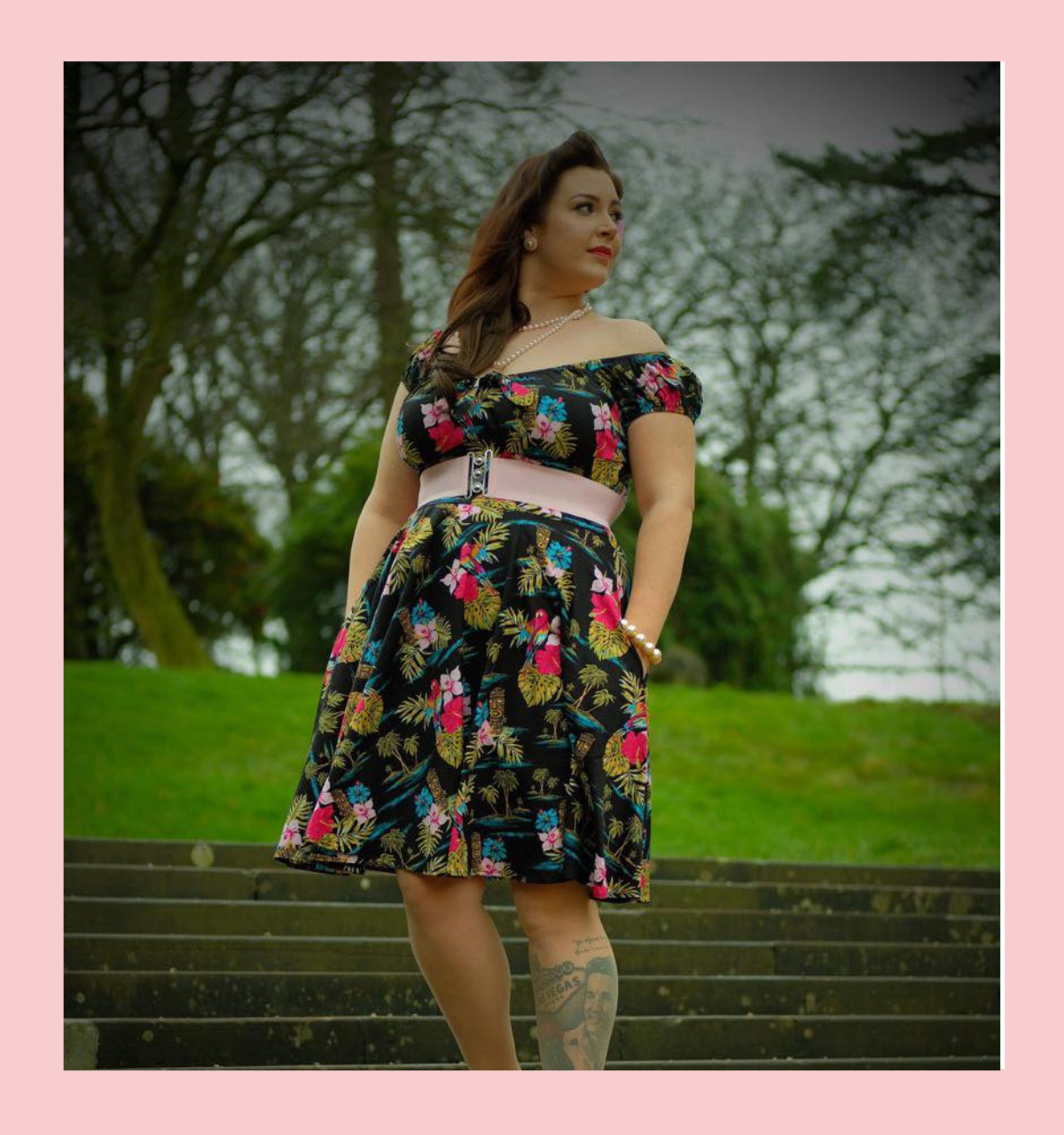 The neckline on this dress is elasticated, which means that the dress is super versatile, it can be worn on, or off the shoulder… depending on how you feel.
Until this year, I have always preferred to wear my dresses with this sort of neckline, firmly on my shoulder... this is mainly due to wanting to wear a good/ supportive bra with my dresses, as I have a larger bust.
I really struggle to find a strapless bra for my 38HH boobies, I need more scaffolding structure than is offered by the high street lingerie stores.
HOWEVER... I have recently discovered that my "normal" bras can be worn under this dress as a "strapless bra", I just pull the straps off my shoulders along with the shoulder straps of the dress. The support offered from my bra without the straps is enough to hold the girls up... and allows me to bare my shoulders without the worry of gravity taking too much hold on my ta-tas!
VOILA.... SEXY SUMMER SHOULDERS!
Above is the gorgeous @LishaSolik wearing the Noa Noa dress off the shoulder, and showing off the pockets!
Below is the lovely @miss.spoonfulofsugar a.k.a. Kirsty wearing the Noa Noa dress on the shoulder.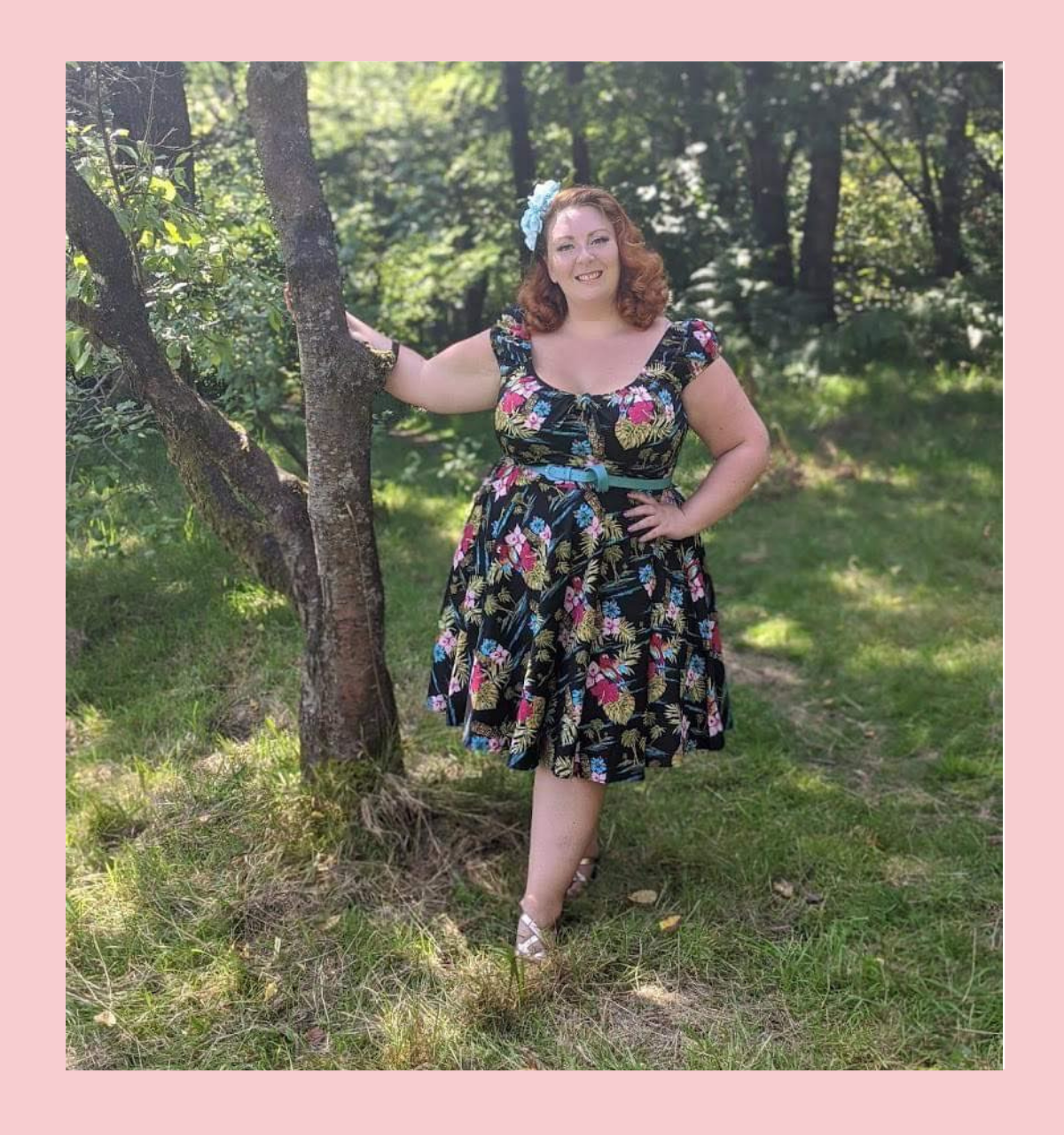 Outfit Inspiration
It was very difficult choosing a colour for this outfit inspo as there are many colours that could be worn with this dress, and each would give the outfit a different look.
I have gone for a mixture of blues and pinks with a playful choice for the jewellery as I love a statement piece for a bag, shoes and jewellery.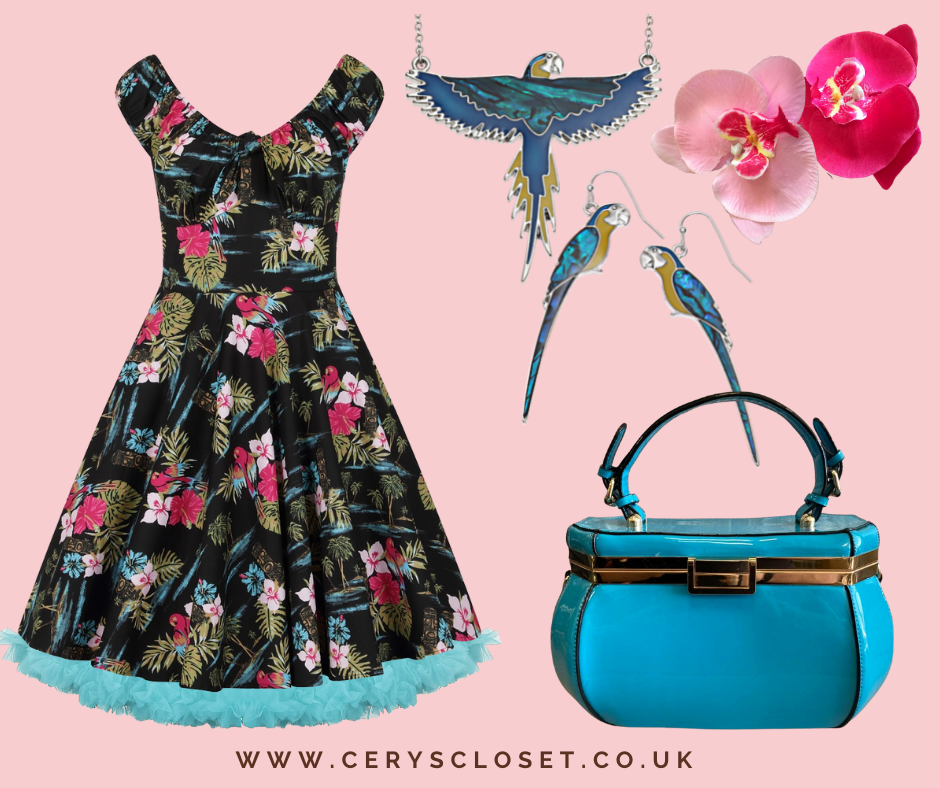 Items above include:
Noa Noa Dress; Available in sizes 8-22
Patent Jewel Shaped Vanity Handbag
Paua Shell Parrot in Flight Necklace
Handy Hint of the Week: How to tighten your petticoat!
Back when I first started Cerys' Closet, I stocked a few different petticoat styles... offering something to suit everyone's budget.
Now I only stock one type of petticoat... The floofy ones!
I know they are a little expensive, and often have feedback from customers regarding the price. But when it comes to petticoats, you really do get what you pay for. And what you're paying for here is quality.
My years of research have led me to THE BEST petticoat on the market, and this is a statement backed by years of customer testimony, not just my word.
Our 25 - 27inch floofy petticoats are the longest length on the market for 1950s styling. It offers the option of wearing it higher on the waist... so that the ruffles aren't seen at the bottom of the dress, or wearing it on the hips... for the full floof to be displayed.
As the Noa Noa dress is one of the shorter styles that we offer, I would wear my petticoat a little higher than my belly button as I would not want the petticoat hanging inches below the hem of the dress.
To achieve this look, and be comfortable, I would tighten the petticoat - so I am not pulling it up throughout the day.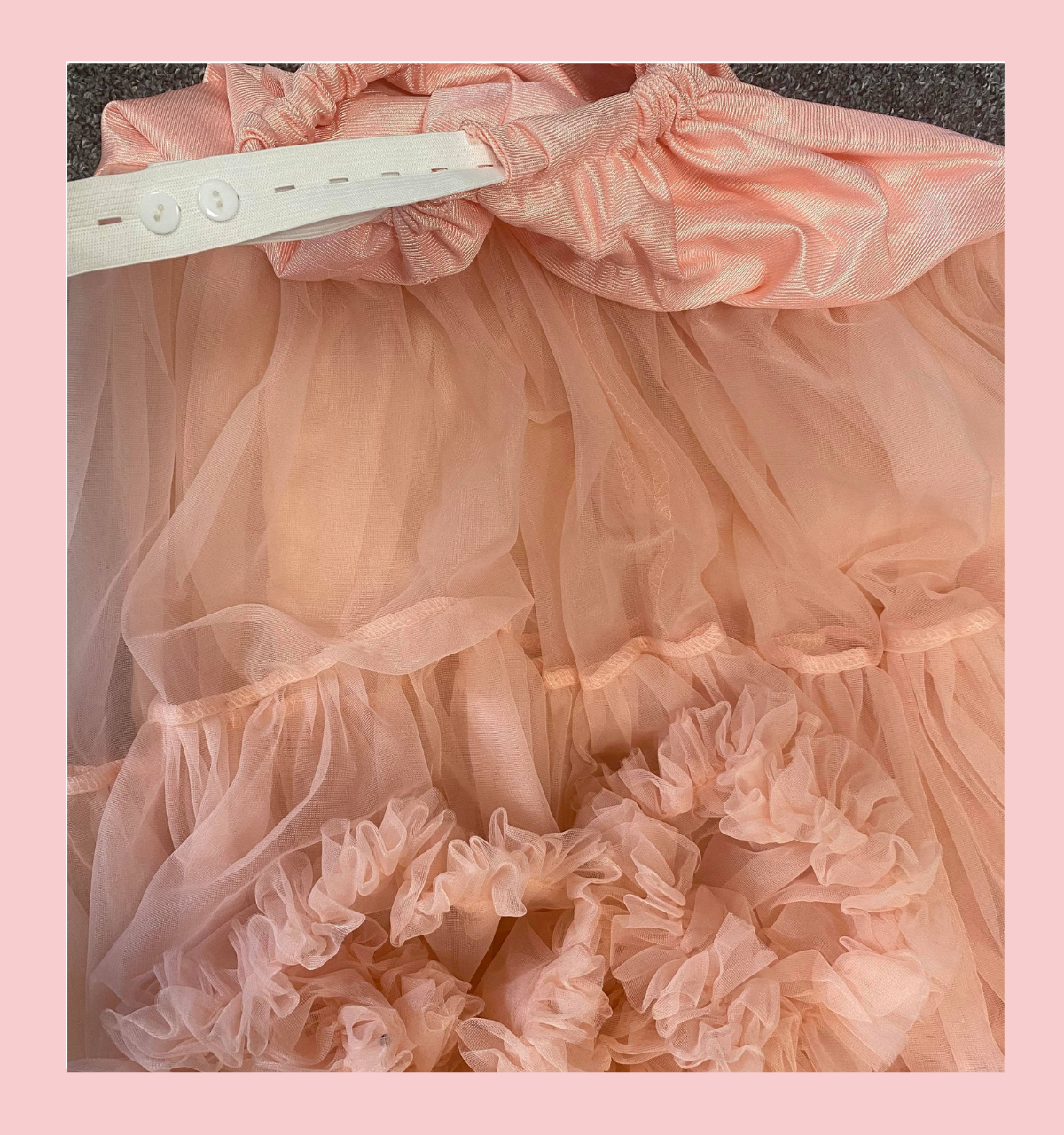 Our petticoats offer a button and elastic waistband that is super helpful for adjusting the waistband.
As with most elastic waist clothing, after hours of wear/ dancing, heat will cause the elastic to give a little... this may make the petticoat move down your hips... and there is nothing worse than having to constantly pull up your petticoat in the middle of an amazing jive session!
But with a little adjustment, the petticoat can be made smaller or larger... as you need it.
Just look for the small slit in the fabric along the waist of the petticoat and you will be able to pull the elastic through to adjust as needed.
WARNING!!!
Do not let go of the ends of the elastic... as I have done MANY times.
It will ping back through the waist and you will spend hours trying to re thread the waistband, questioning your life choices and cursing at the sky as you do so!
HANDY HINT! Learn from my mistakes ladies!
Grab yourself a safety pin and pin the ends of the elastic together BEFORE you undo the buttons to tighten the waistband.
This prevents the elastic from pinging back through the waistband if you do accidentally let go of the ends before managing to button it together. And it will save you time and tears.
AMAZING SUMMER DISCOUNT CODE
As you can tell from the title: I am offering an amazing Summer discount code on all our Hell Bunny stock for the next 2 weeks. This includes the Noa Noa Dress of the Week,
This can be used in store and online on any of our Hell Bunny dresses*.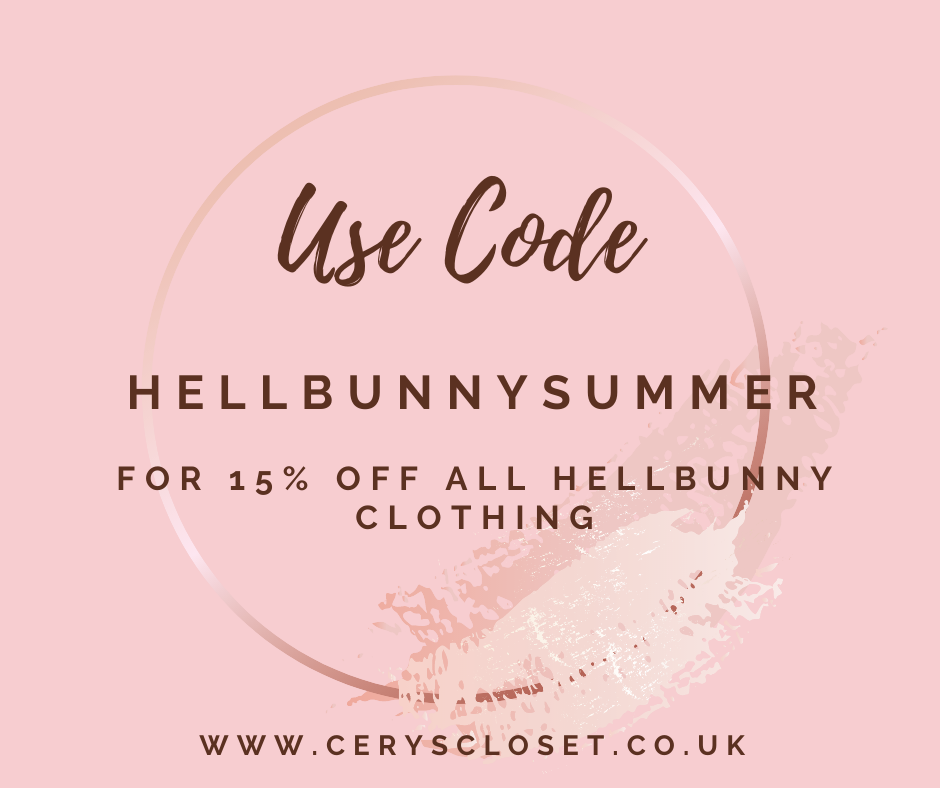 *Excludes sale items, ends 3/8/21