Dress of the Week - Andromeda
Hey lovelies,
This week we are starting a new "Dress of the Week" blog feature here at Cerys' Closet.
Since the first day I opened the shop back in 2013 - I have always highlighted a chosen dress on a weekly basis.
It gets pride of place in the window, Gladys (our shop mannequin) wears the dress inside the shop too. We highlight handbags and accessories that pair well with the dress and show off pictures of our customers wearing the dresses in real life.
It's been pointed out to me recently that this would be an amazing feature to show our online followers as many of you live outside of Wales and cannot get to the shop. I really hope you enjoy this new feature, and reading about each dress will make you fall in love with them as much as we love them.
Andromeda
Full Circle Dress comes in sizes 8 - 26
Wiggle Dress comes in sizes 8 - 18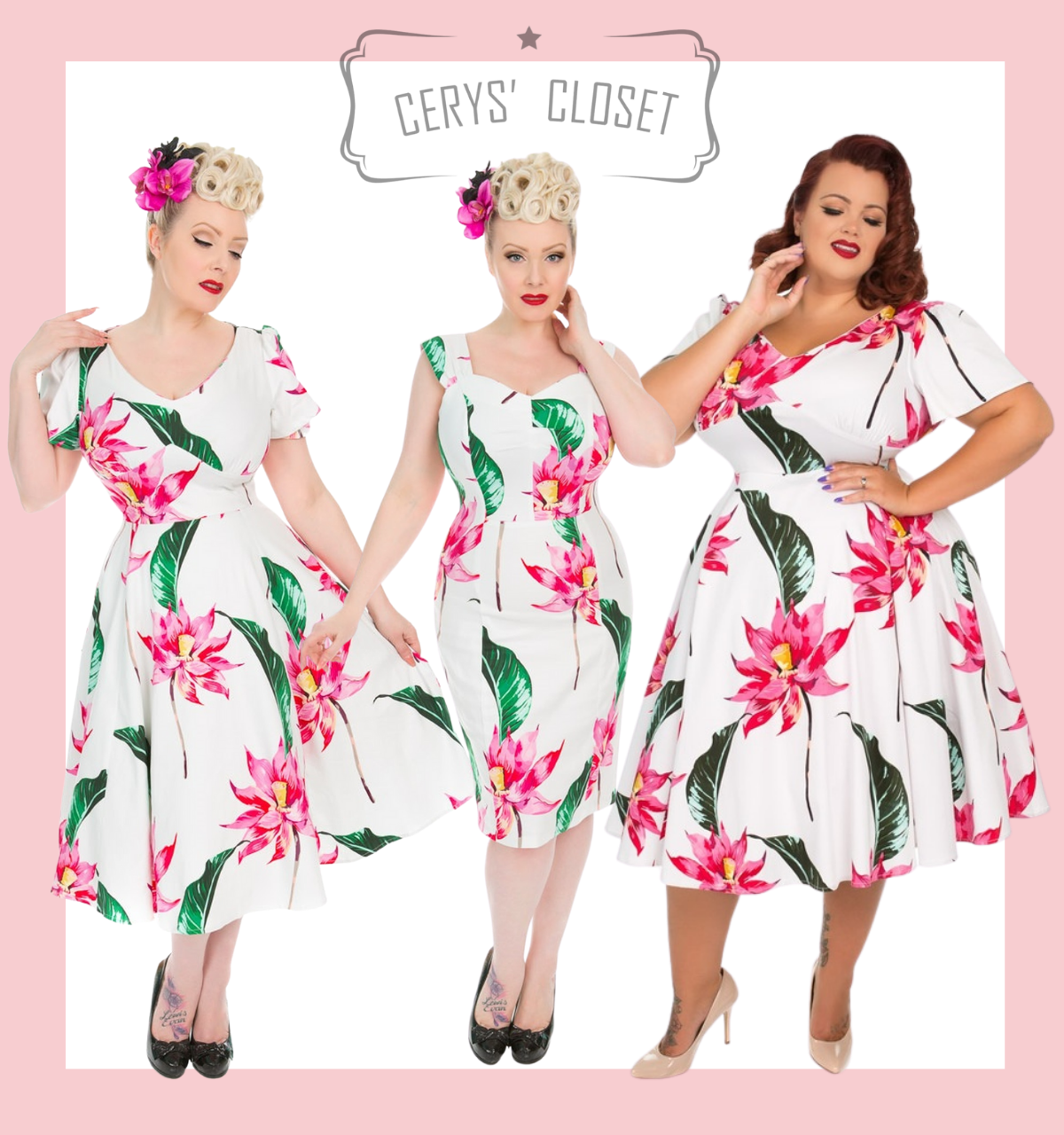 About The Dress
This gorgeous dress comes in 2 styles, so there's something for everyone!
The online photos of this dress fabric does not do it justice. The large pink blooms hold an excellent range of colour that is perfect for accessorising. There are deep pinks, light pinks, reds, yellows and a range of greens so you could really go wild with the accessory colour options.
This dress personifies Summer and gives off amazing Tiki vibes; it reminds me of sandy beaches and drinking cocktails under palm trees
Cerys says...
The full circle skirted dress is perfect for that 1950s hour glass silhouette. It's fitted in the bodice so it hugs the curves and then flares from the middle into a stunning full circle skirt, WITH POCKETS!
This is my ideal style as I have an ample bosom but I also have a tummy so my favourite dress style is the full skirt as it flatters and hides. It's amazing top allows me to wear a good/ supportive bra, and the flutter sleeves are perfect as I don't need to wear a cardi, they also keep me really cool in the Summer.
It can be worn with our without a petticoat, depending on how you feel. I prefer a petticoat with mine if it's a special occasion.
The sexy slinky wiggle dress is truly gorgeous in real life. Every customer who has bought this in store has loved it. It's very Marilyn Monroe and skims the body beautifully. It has a pretty sweetheart neckline and thick straps which help conceal a good/ supportive bra. The fabric has a little stretch in it, and there is a split in the back of the skirt so it allows a good range of movement.
Outfit Inspiration
This dress could be accessorised with so many colours, it's hard to choose! I've gone for the obvious green and pinks for these two designs but there is vibrant yellow and red in this dress also.
In the above picture I have the following accessories:
Andromeda Full Circle Dress , Midge Hot Pink Patent Handbag , Hot Pink Petticoat , Hot Pink Satin Bow Belt
Hot Pink Hair Orchid , Light Pink Hair Orchid , Paua Shell Flamingo Necklace and Earring Set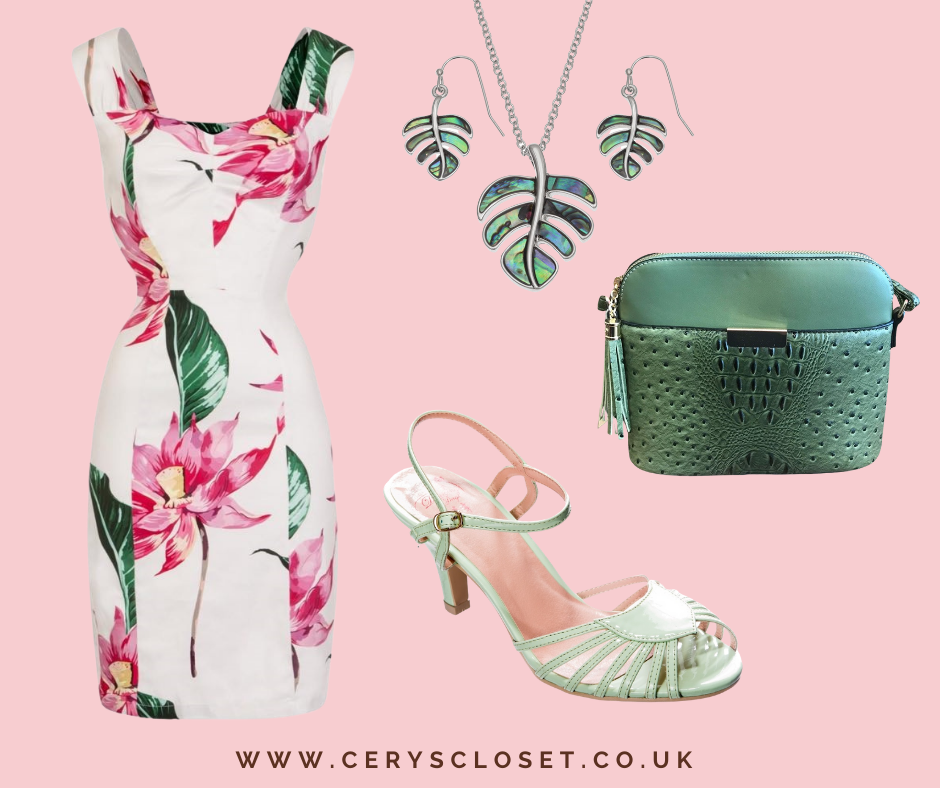 In the above picture are the following accessories:
Andromeda Wiggle Dress , Green Faux Ostrich Handbag , Green Amelia Sandals , Paua Shell Cheese Plant Earrings and Necklace Set
Handy Hints and Tips
If I wear a dress like this and there is a chill in the air I will often reach for a pashmina/ scarf over a cardi or bolero.
A pashmina or scarf is lightweight and can easily be tied around a handbag in a fashionable bow when not in use, but when you need it, it can provide excellent warmth and coverage.
Over the years a lot of customers have wanted to cover their arms for various reasons, but they don't want a cardi/ jacket etc as they get too hot. I share this handy hint at it's a favourite of mine.
Drape the scarf over your arms or wrap it over your shoulders for a light coverage... however if like me, you hate it when the ends dangle down or you have to keep shrugging it back up your arms.... turn the scarf into a shrug!
Here's how... I have used a vibrant green to show the steps, I know it's not necessarily the best colour for the dress but it photographed really well in the shop.
Step 1
Place the scarf around the shoulders and let it fall down your back...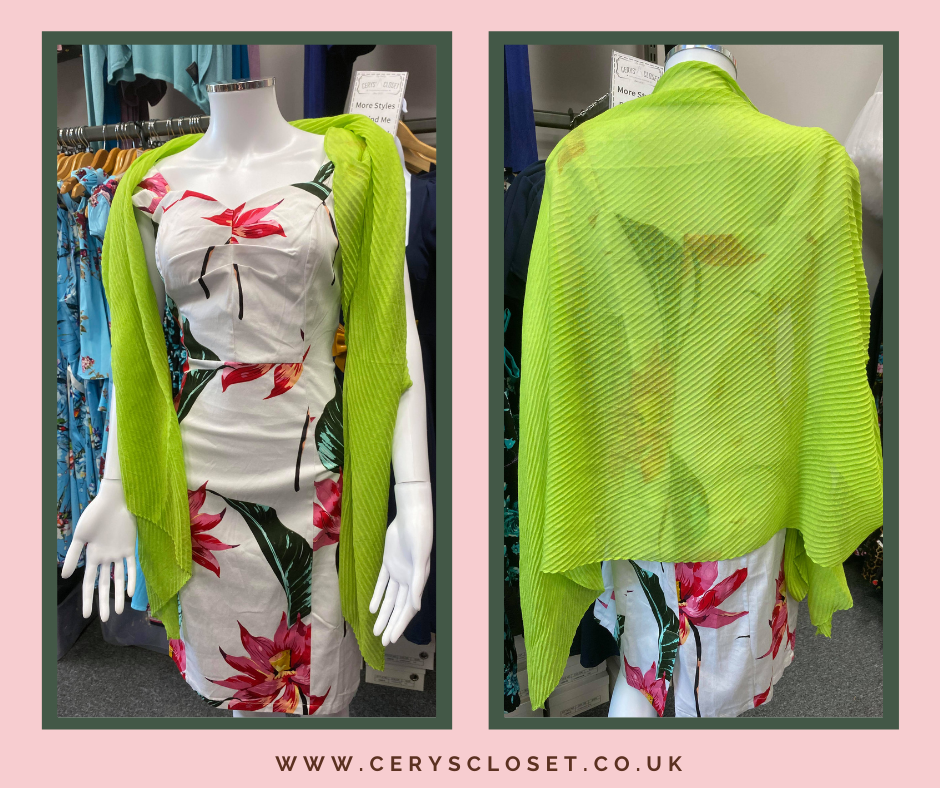 Step 2
Bring the ends of the scarf through your arms and to the back.
Step 3
Tie the ends together in a knot.
Step 4
Cover the knot so it looks flawless in the back - Gladys is obviously a mannequin and I didn't pull the fabric through enough when I took this photo so you can see a little gathering in the back that wouldn't happen on a person.
Step 5
Adjust the wrap until it looks more like a bolero in the front... TRUST THE PROCESS, IT LOOKS AMAZING.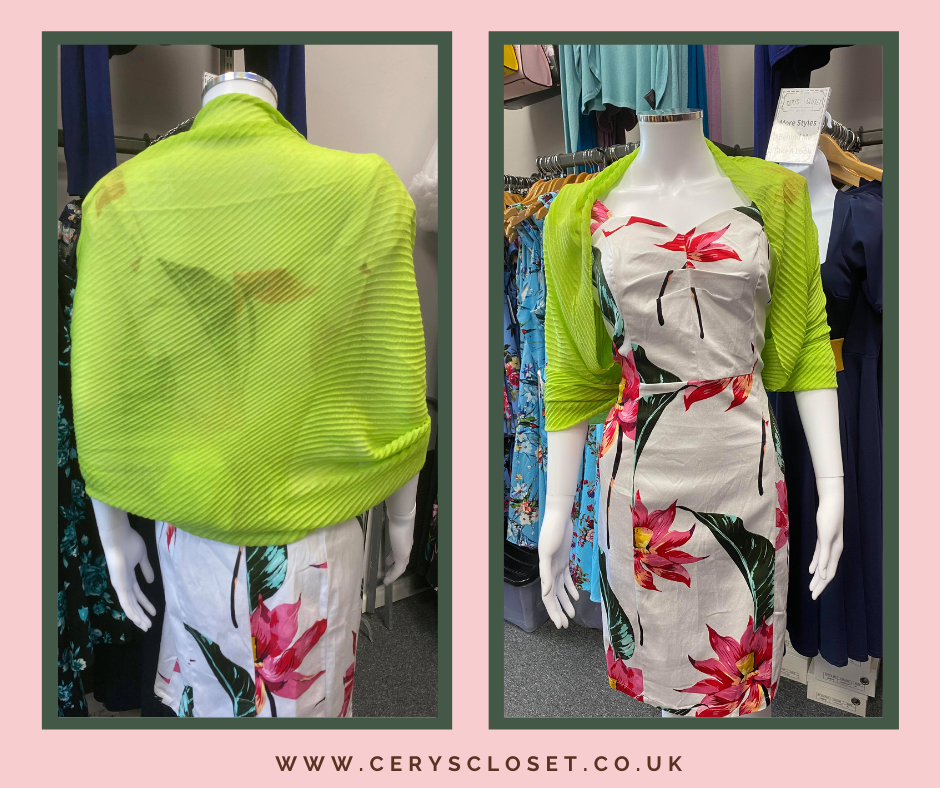 Lastly here is a quick photo of one of our gorgeous customers Emma Louise Lambert wearing our Andromeda dress with pettocoat in real life. Doesn't she look amazing!!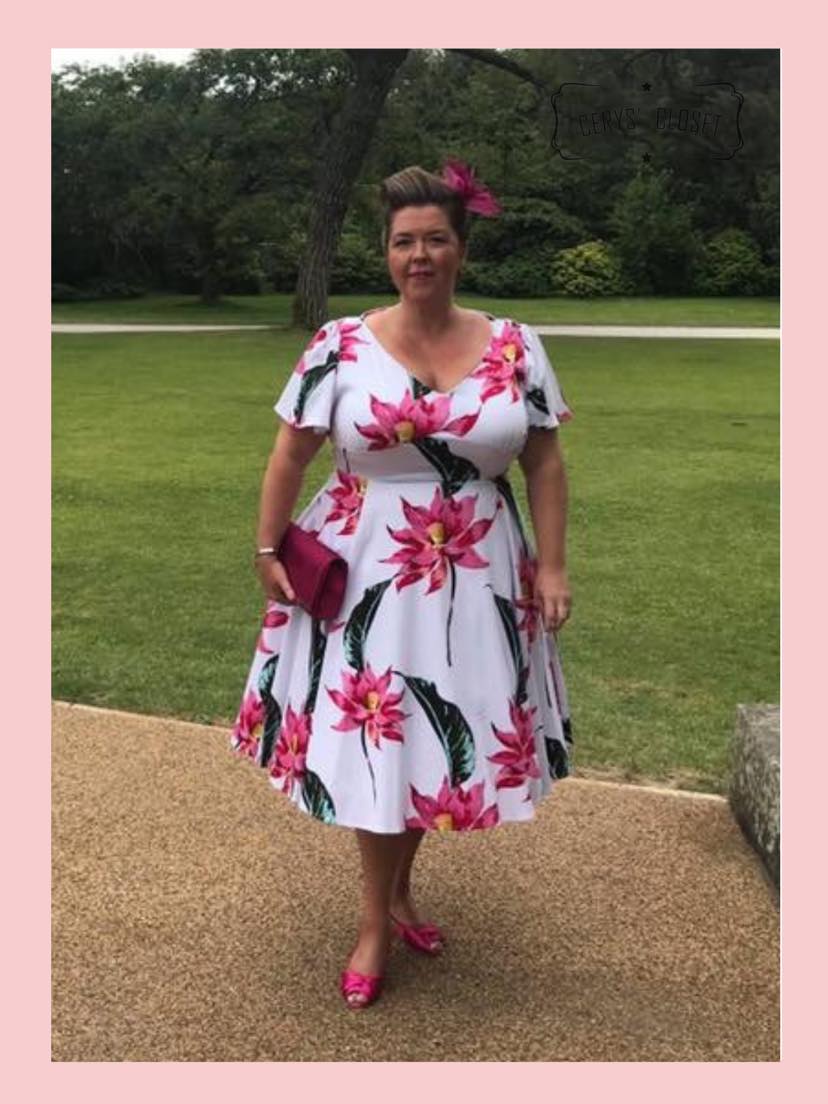 Make sure you tune in next week for our next dress of the week blog.
Stay safe lovelies,
Cerys x